How To Pick The Right Irish Setter Puppy For You
Irish Setters have great character and personality. Choosing which one is right for you can be challenging. Evaluating the puppy, litter, and breeder is important before selecting your puppy. Qualities to look for include anything that aligns the puppy with their true breed standard nature and character. If they display those qualities at a young age, you've found yourself one amazing puppy!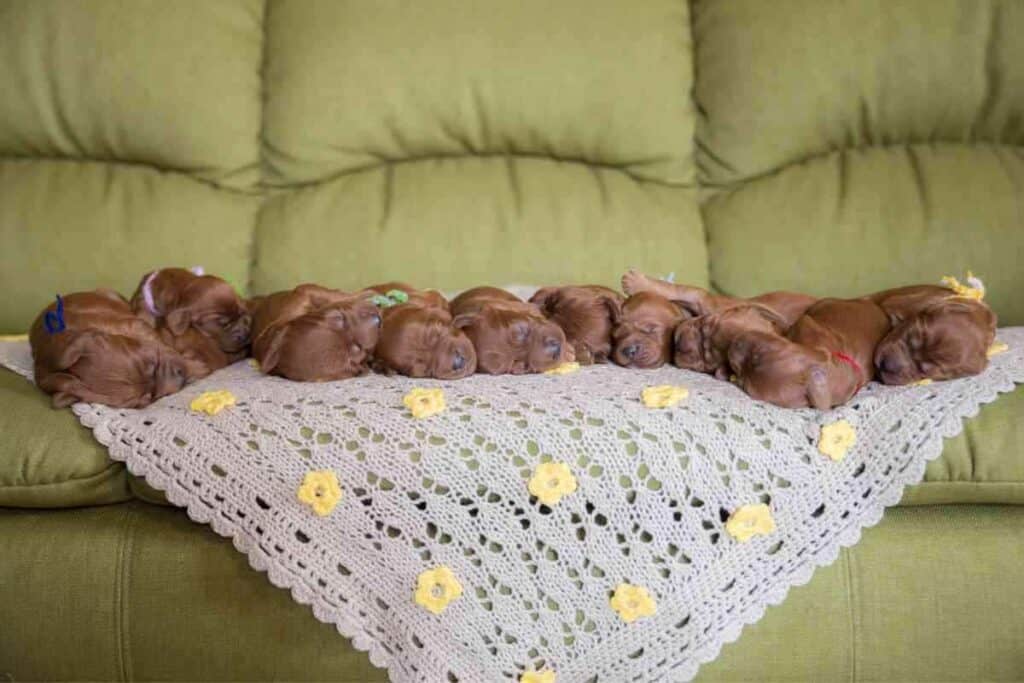 What should I look for in an Irish Setter puppy?
What you should look for in an Irish Setter puppy is good breeding which will be evident in their behavior, health, appearance, and personality. Depending on what your Irish Setter will be doing as an adult, you will want certain qualities.
For starters, when deciding on an Irish Setter as your furry family member, you will want to do your research well. You will want to use internet resources, word of mouth, and other information to select the breeder that will provide a healthy dog with good temperament and breed characteristics.
Once you've done that, you will want to inspect the breeder's facility and discuss with them at length everything. You will want to have documentation of their history, knowledge, skills, references, and anything else they can provide.
As a potential Irish Setter parent, you will want to check their references and have legitimate documents proving they are a reputable breeder. Once that is out of the way, you will want to pay attention to their litter of puppies.
A reputable breeder will help you with this process. At this point, you will want to pay attention to the puppy's behavior and personality. While they are a growing puppy, there will still be certain characteristics of the breed that should be evident at this point, like friendliness.
The puppy should be displaying some friendliness and interest in being social, and they should be outgoing and have a level of intelligence that matches their age. It can be helpful to be open, honest, and forthcoming with questions when dealing with the breeder.
A reputable breeder will feel comfortable with a potential pet parent eager to know about their puppies and the puppy they might decide to call family. The puppy should display age-appropriate behaviors that fall in line with the breed.
Before you begin this process, you must research and learn as much as possible about the dog breed itself. This is for your knowledge, and it's helpful at every stage of your Irish Setter's life to know your puppy or dog.
If your Irish Setter is accompanying you on hunting expeditions, you will want to note their interest in birds when outdoors.
The Irish Setter puppy should be healthy; there shouldn't be any visible health concerns. If something seems off with their behavior or physical traits, it's highly important to ask the breeder questions and don't hesitate to gain all the answers you need.
The same thing will be said for physical appearance. During the puppy stage, many changes take place, and it can be hard to identify issues but don't hesitate to ask questions and express concerns.
Reputable breeders welcome and encourage this question-and-answer phase as they are confident in their breeding practices, knowledge, and skill. Disreputable breeders will take offense or graze over questions, often not giving clear, concise answers.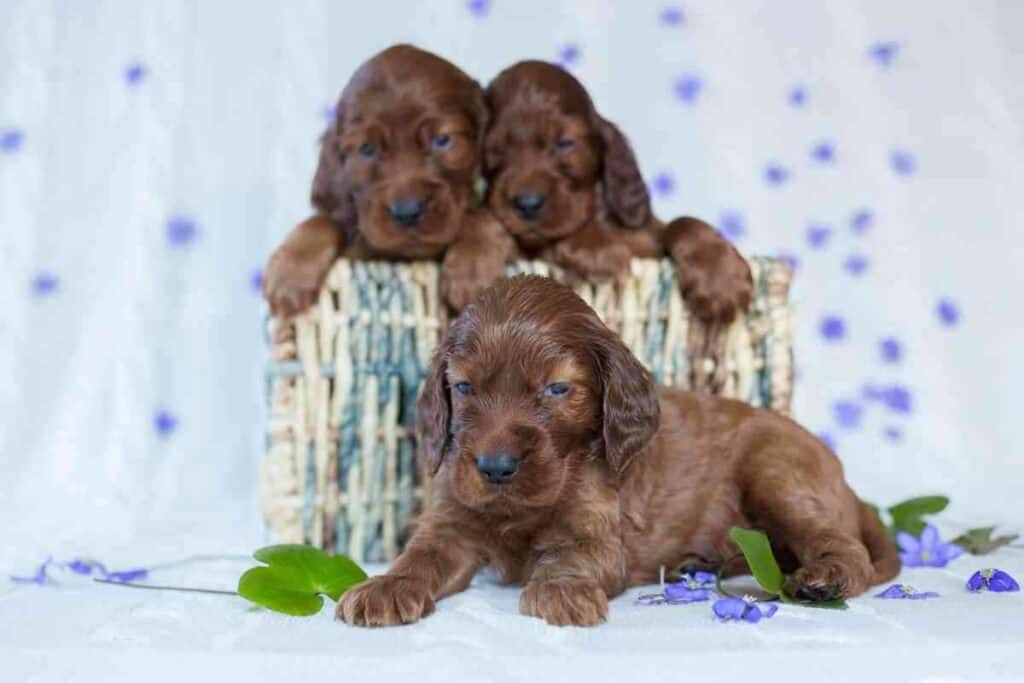 Anything that seems off physically, emotionally, or mentally at any point should be addressed at that moment. Every issue that comes up should be addressed so you, as the client and potential Irish Setter parent, feel comfortable.
If you don't feel comfortable with what you see, hear or experience, taking a thoughtful step back is appropriate before selecting a puppy. There is no point in choosing a puppy and bonding with them, only to later find out you don't trust the breeder's skill or breeding practices.
If everything seems to align with their appearance, behavior, personality, and health, you can start selecting a dog from the available litters of Irish Setter puppies.
Choosing an Irish Setter for a particular task, such as hunting or for in the show ring, will change the process slightly. Before researching the available reputable breeders, you will want to choose a breeder that offers the kind of Irish Setter you are seeking.
Field Irish Setters may come from a different breeder than Show Quality Irish Setters; therefore, you will want to use a breeder specializing in the type of Irish Setter. Field Irish Setters are slightly different than Show Quality, and some breeders will prefer breeding one over the other.
Some breeders can breed both, so doing research is very important. Once you've determined which type of Irish Setter puppy you want, you can continue determining which breeders are right for you.
You will want your Irish Setter to display the breed's physical, mental, and emotional qualities when choosing a puppy. Even at an early age, some qualities will already be noticeable.
How do I locate a reputable and quality Irish Setter breeder?
The best way to locate a reputable and quality Irish Setter breeder is to use online resources. One of the best resources for locating quality breeders is the American Kennel Club resources which can be found online.
You can also use other Dog Club online resources to locate quality breeders. Word of mouth and online reviews or information can be helpful when trying to choose a good Irish Setter breeder. Selecting a few breeders for your Irish Setter puppy should take some time.
When you've narrowed it down to a few, maybe three breeders, you should do further research and begin selecting the one that you feel is best. At this stage, what can be helpful is to contact the breeder or look online to see if they have any puppies available.
As stated above, once you've chosen a few breeders for your Irish Setter puppy, you can evaluate and research further. Talk to the breeders you've chosen at this point, ask tons of questions, read their information and documents, and check their references.
Dig as deep as possible, and once you feel satisfied, you can select which breeder is right for you based on the available litters and the information you've gathered. Thanks to online resources, connecting with breeders and gathering valuable information is now easier than it ever was in the past.
Local clubs and even Irish Setter rescues can also be valuable resources for assisting with choosing a reputable breeder. The most important aspect of this process is to not rush the process.
You will be spending a lot of money to adopt a lovely fur baby. That furry family member will be with you for the rest of your life, and they will need your love and care to fit into your lifestyle and family.
Choosing the right puppy for you, so you and your family can be happy is deeply important. Not to mention you being the right family for the Irish Setter matters equally.