Essential Products for Your New Corgi
The Welsh Pembroke Corgi, the most popular dog breed with families due to its loveable, friendly nature and cute size.
Small but strong, this dog breed is a perfect addition to any family, big or small, because they get along great with other dogs and enjoy being active.
That being said, there are many items that a family will need for their new fur baby. A durable food bowl, some fun toys, and a strong but comfy collar are all essential.
What Do I Need To Buy For My New Corgi?
To properly care for your new Corgi, you will need to purchase a collar, a harness, a dog bed, a crate, dog bowls, and many different chew toys. It's best to purchase these items before you bring your new Corgi home so that you are well prepared from the beginning.
This list will provide you with ideas to get you started so that you can enjoy more time with your new pooch!
What size collar should I get for my Corgi?
The perfect size collar will usually be between fourteen and sixteen inches, but your Corgis' neck should always be measured first.
As a puppy, they will not necessarily need a collar, but it is suitable for training. Eventually, they will need to wear one, and it can be helpful to start early.
Materials should always be durable but comfortable so as not to hurt the Corgis' neck. Adjustable collars are a good option.
You want a collar that will fit snug enough so they can't slip out of the collar but still feel comfortable.
TagME Reflective Dog Collar by The TagME Store
This collar is simple, adjustable, and easy to use with a quick-release buckle. Reflective and safe, this collar comes in many color options at a reasonable price so that you can get more than one.
What size harness is a good choice for my Corgi?
A harness is an excellent alternative to a collar for pet parents that don't want anything pressing against their dog's neck. Designed for comfort and management of behavioral issues like pulling, they make life easier with dogs who don't cooperate.
Whether your Corgi is a puppy or an adult, they may like to walk wearing one of these better than a collar.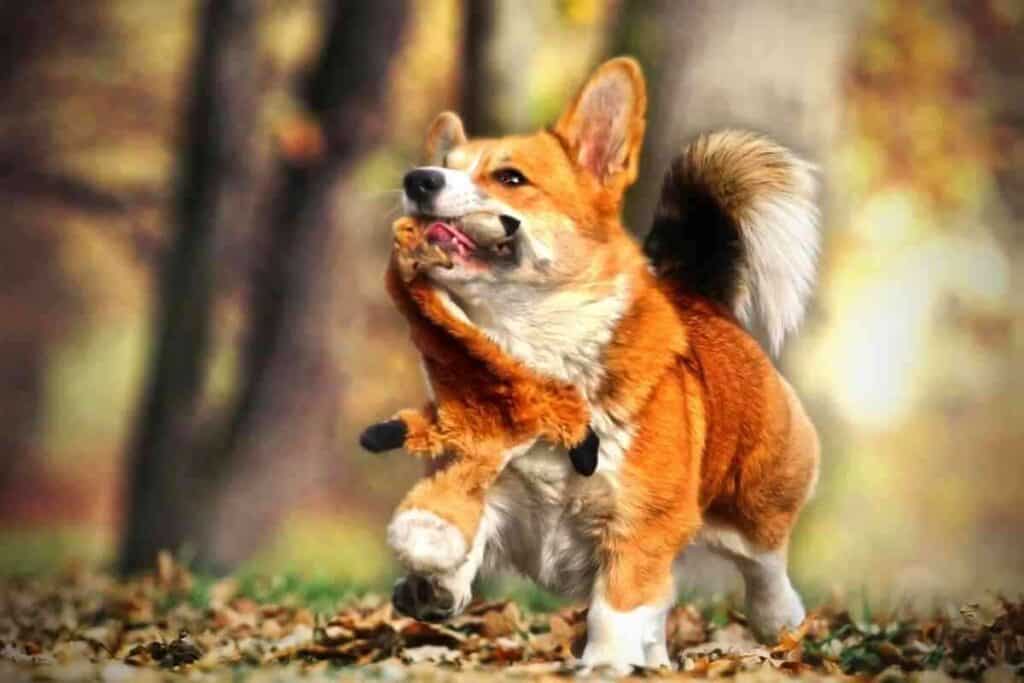 It has advantages for the pet parents as they are less likely to harm the Corgi if they need to pull back if they try to run into traffic or something dangerous.
With diverse materials and many different styles to choose from, a harness should be adjustable and fit snugly but not tight again.
Classic Dog Harness by EcoBark Store
This harness is made of mesh and is breathable for warmer weather. With a quick release and numerous sizes and colors, this harness meets safety standards and is eco-friendly and hypoallergenic.
At a reasonable price, this product allows pet parents to purchase extra for their vehicle and have extra ones on hand.
What is a good size dog bed for my Corgi?
A dog bed is a must, even for those dogs that adore sleeping with their pet parents. While there isn't necessarily a right or wrong size for any dog, smaller dogs might love the coziness of a little bed in a special nook.
Fabrics, styles, and colors are numerous so that a pet parent might color coordinate or match their interior design.
While purchasing a dog bed is nice for your Corgi, depending on financial abilities, sometimes an old pillow or household item works just as well with a bit of creativity.
Whichever way is chosen, a dog bed can be a great addition to any household for those moments when a pet parent is dealing with a problematic fur baby. They might need to take a nap themselves instead!
Amazon Basics Warming Pet Bed by Amazon Basics Store
This dog bed is comfortable to the maximum. Self-warming, this pet bed reflects the dog's body heat to them. With a faux sherpa lining and a corduroy backing, this bed can be spot cleaned. It comes in two different sizes.
What size dog crate will I need to get for my Corgi?
The right size dog crate to have for your Corgi is either small or medium, depending on the size of your Corgi. If they are larger than twenty-five pounds, they should have a medium, under that size, a small size crate.
Dog crates come in many diverse materials, designed for travel or to stay in one place.
Having a dog crate is not always a necessity, as some pet parents are on the fence about using a crate for their dog. Either way, they can be a great tool to have when training your Corgi.
Selecting one is more about purpose and durability. For those that wish to have a crate that stays in one place, a metal, eco-friendly, or plastic material crate might be best.
Petmate Vari Kennel by Petmate Store
This crate can be used both in a permanent setting such as the home or for travel. It is made of durable, eco-friendly material; it is manufactured by a company with more than fifty years of experience creating pet products.
What is the best dog bowl for my Corgi?
Selecting a dog bowl may seem simple and pretty straightforward. However, not all dog bowls are created equal.
Some will be simple, stainless steel, toss in the dishwasher, and move on. Some others offer other advantages like skid-resistant bottoms or height adjustments for bigger dogs.
The most important part of picking a dog bowl set for your Corgi is their comfort, durability, and ease of cleaning.
URPOWER Dog Bowls by URPOWER Store
This dog bowl set is designed as non-spill, skid-resistant with stainless steel bowls that are rust-resistant. Their unique design means your dog isn't likely to flip over its bowl if they don't like what's on the menu.
What KONG can I get for my Corgi?
The KONG is a classic dog toy loved by many fur babies worldwide. When selecting a KONG dog toy, it can be hard to choose if one is better than another.
While the answer to that is no, unless, of course, your Corgi is teething, we wouldn't want you to end up with fifty KONG toys around your house and yard. Therefore the dog's personality should be taken into consideration.
Do they like to play alone or with their humans? If so, there are different toys for other play. The Classic KONG is always a nice addition to any fur-friendly household.
This KONG brings the play up another notch for pet parents and Corgi.
KONG – WUBBA by KONG Store
This toy brings the fun tug of war to life, allowing pet parents and Corgi to share interactive playtime safely. With a durable exterior and fun squeaker on the inside, your Corgi will want playtime to go on forever.
Final Points
With so many things to worry about with your new Corgi, picking out the best toys and essentials should be straightforward. Having a list to help along the way can make it more enjoyable and leave more time for fun with your fur baby!