Back To U.S. Directory Of Places Dogs Can Swim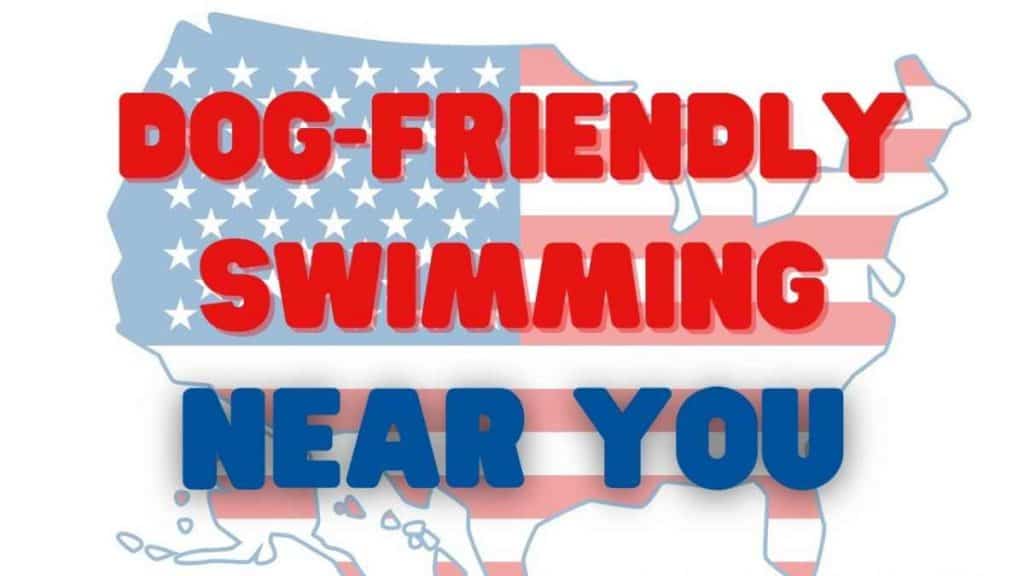 Public Parks, Beaches, & Lakes
Dog Parks
Summary By City
City
Places
Los Angeles
1 Dog park with lake
7 Dog daycare and boarding facilities
San Diego
2 Dog parks
2 Dog-friendly beaches
1 Dog park w/ beach access
2 Private dog pool
San Jose
2 Dog-friendly lakes
2 Dog-friendly beaches
1 Dog friendly pond
2 Private dog pool/daycare
2 Hydrotherapy center
San Francisco
11 Dog-friendly off-leash beaches
3 Parks/recreational areas
2 Private doggy daycare
Fresno
2 Dog parks
1 Pet resort
2 Dog-friendly lakes
Places Dogs Can Swim Near Los Angeles
Place
City
Features
Country Dog Ranch
Los Angeles, CA
Dog training, daycare, and boarding services
Free door-to-door shuttle services
6 acres facility that offers a natural environment for dogs
Dog swimming pool
Doggie Central
Culver City, CA
Cage-free facility
Daycare
Overnight boarding
Doggie cams
Grooming services
Pool sessions and dog training
Two Hands Four Paws
Los Angeles, CA
Dog Hydrotherapy
Canine Acupuncture
Chinese herbs
Daycare
Services for dogs with special needs
Pool time!
Paradise Ranch Pet Resort
San Fernando Valley, CA
Cage-free
Resort-style pet daycare and boarding facility
Dog training services
Water park for fun swims
Silver Lake Dog Park
Los Angeles, CA
Walking trails near Silver Lake Reservoir
Separate fenced, off-leash areas for big and small dogs
Shaded beaches
Water fountains
TailWaggers Massage
Torrance, CA
Hydrofitness Program for dogs
Hydromassage for dogs with mobility issues
Play and swim in the water
Canyon View Ranch
Topanga, CA
Wonderland holiday experience for dogs
Bone-shaped ponds and waterfalls
Dog tunnels and tubes and other playground equipment
California Dog Boarding
Corona, CA
Dog training with pro canine trainers
Board and train services
Large play areas outdoor and indoor
Shade trees and play pools for a cool summer
Places Dogs Can Swim Near San Diego
Place
City
Features
Fiesta Island Dog Park
San Diego, CA
There's a bay where pooches can swim
Family recreation facilities
Off-leash areas for dogs
On-leash walking trails
Mission Bay Park
San Diego, CA
Massive aquatic park for the entire family
Dog walking allowed on leash
Dog-friendly sandy beaches
Dog Beach
San Diego, CA
First official leash-free beach in the country
Large beach area for dogs and owners to enjoy
Grassy picnic area
Coronado Beach & Dog Park
Coronado, CA
Off-leash beach
Grass park
Restrooms and showers
Free street parking
Dogs Tired San Diego
San Diego, CA
Off-leash walks
Dog-walking services
Staycation boarding
Pet first aid
Trained personnel
K9 Aquatics
Santee, CA
Supervised swim time
Therapeutic warm water exercises
Private sessions available by appointment
Summer pool fun with your pet
Canine to Five
San Diego, CA
Warm water swimming pool
Water exercises
Daycare and training services
Self-service dog wash
Places Dogs Can Swim Near San Jose
Place
City
Features
K9 Keep Fit
San Jose, CA
Daycare with pool play
Socialization and behavioral training
Outdoor pack walks and other exercise activities
Wagtopia
San Jose, CA
Dog day camp
Ride on the Wagtopia School Bus
Nature trips and adventures including swimming in off-leash lakes and beaches
Dog Pool Club
San Carlos, CA
Off-leash indoor pool Play
Park
Coffee shop for pet parents
No appointment just sign up as a member
Aqua Dog Canine Swim Therapy
Los Gatos, CA
Hydrotherapy for dogs
Physical rehab services for injured dogs
Over 17 years of dog rehab experience
Lake Del Valle
Livermore, CA
Dogs can swim in designated areas
Nature activities like camping and boating
Grocery stores in the area
The Rex Center
Pacifica, CA
Warm water pool
Private swims by appointment
Hydrotherapy and rehab services
Shinn Pond
Freemont, CA
Community park
A pond where dogs can play and jump in the water
Off-leash, unfenced dog park
Doggie Adventures
San Jose, CA
Off-leash beach adventures every day!
Off-leash hikes
Pet-sitting services
Supervised playtimes
Places Dogs Can Swim Near San Francisco & Oakland Areas
Place
City
Features
Fort Funston Beach (Off-leash)
San Francisco, CA
Dog-friendly off-leash beach (must be under voice control)
Nice trails for both hiking and horseback riding
Dog-friendly park
Amenities like trails, viewing platforms, and more
Crissy Field – East Beach (Off-leash)
San Francisco, CA
Dogs-friendly off-leash (under voice control)
Lots of amenities like restrooms, cafe, grass park, bike path, and more
Fun activities like surfing, sunbathing, biking, running, and more
Crissy Field – West Bluff Beach (Off-leash)
San Francisco, CA
Dog-friendly beach
Dogs allowed off-leash (under voice control)
Amenities like picnic tables, cafe, lighthouse, trails, and more
Ocean Beach (Off-leash)
San Francisco, Ca
Dog-friendly beach
Dogs allowed off-leash (under voice control) but leashes are required from Sloat Blvd to Stairwell 21
Amenities like restrooms, promenade, paved bike lane, dunes, and more
MIle Rock Beach – Lands End (Off-leash)
San Francisco, CA
Dog-friendly beach
Dogs allowed off-leash (under voice control)
Hiking trails, viewpoint, picnic tables, lighthouse, and more
Baker Beach (Off-leash)
San Francisco, CA
Dog-friendly beach
Dogs allowed off-leash (under voice control)
Trails, volleyball court, free parking
Esplanade Beach (Off-leash)
Pacifica, CA
Dogs allowed off-leash on the north end (under voice control)
Activities like dog walking, surfing, fishing, and more
Parking along Esplanade Ave.
Rodeo Beach (Off-leash)
Sausalito, CA
Dogs allowed off-leash (under voice control)
Hiking, bird-watching, surfing, and more
Amenities like picnic tables, lagoon, trails, and restrooms
Muir Beach (Off-leash)
Muir Beach, CA
Dogs allowed off-leash (under voice control)
Restrooms, picnic tables, fire pitsHiking, beachcombing, bonfires, sunbathing, and more
Albany Beach – Buchanan Dog Beach (Off-leash)
Albany, CA
Sandy beach backed with low dunes
Dog-friendly beach
Trails, restrooms, bike lanes, parking
Pine Lake Park (Off-leash)
San Francisco, CA
Valley and lake
Park with eucalyptus and grove
Off-leash dogs are allowed
Amenities like a clubhouse, day camp house, and more
John McLaren Park – (Off-Leash)
San Francisco, CA
The largest park in the city
Recreational activities
Off-leash dog play area
McLaren Upper Reservoir where dogs can swim in
Furball Fitness Dog Camp & Daycare
Oakland, CA
Daycare and day camp for dogs
Supervised, private dog "glamping"
Wading and jump in the ocean waves
Dog Social Club
Oakland, CA
Private boarding and daycare for canines
Splash pools and sprinklers for water-loving pets
Safe puppy area for juvenile pets
Doggy play yard with amenities like ramps, slides, and bridges
Places Dogs Can Swim Near Fresno
Place
City
Features
Dr. James W. Thornton Dog Park
Fresno, CA
Membership-based dog park
Canine wading pool with water jets
Grassy area, agility play area, dog runs, and more
Elaine's Pet Resorts
Madera, CA
Private pet boarding and daycareDoggy water parksBeach entry swimming poolsDog spa
Basin AH1 Dog Park
Fresno, CA
Seasonal dog park and pondWading pools for dogs to hop inOpen space for pet-walking
Millerton Lake
Fresno, CA
Dog-friendly recreation site
There's a lake campsite, a wading area, boat ramps, and toilets
Shaver Lake
Fresno, CA
Dog-friendly lake
Dog swimming at non-designated beaches
Multiple campsites
Recreation opportunities
Places Dogs Can Swim Near Los Angeles
Country Dog Ranch (Los Angeles, CA) provides your dog with lots of off-leash time to play, explore, run, socialize, and swim in the pool. This facility is a fenced area sitting on the hills of Sta. Clarita. They also offer van pick-ups to and from your home. If your dog is suffering from a behavioral issue, they have dog therapy programs to help your dog. Whether you're off to a business trip or simply want to treat your dog to a lovely getaway, this is an excellent facility to consider.
Doggie Central (Culver City, CA) offers cuddles and more for your canine companion. This indoor and outdoor boarding facility provides a cage-free, fun, and secure environment for dogs of all breeds and sizes. They have a professional staff with about 20 years of experience in the field. Their daycare and boarding services include access to various amenities, including the doggie swimming pool. Enjoy peace of mind while at work, as you can view your doggo via their doggie webcam service.
Two Hands Four Paws (Los Angeles, CA) is a special needs therapy-oriented daycare and boarding facility. They take pride in the special care given to all special needs dogs. Besides mobility training, they also offer pain management services necessary for rehab therapy. Whether your dog needs therapeutic care, weight management, or daycare, this award-winning physical rehab facility is worth checking out.
Paradise Ranch Pet Resort (San Fernando Valley, CA) is a real-life water wonderland for dogs. They are a cage-free pet daycare and boarding facility with one of California's best canine water parks. Does your dog need some playtime and outdoor fun with other dogs? You can book a daycare service between 7am and 7pm. They also have boarding, grooming, and transportation services available. They invite first-timers to book a free trial and evaluation whenever you're ready.
Silver Lake Dog Park (Los Angeles, CA) is a natural, scenic place to bring your entire family. Your dog will thank you as they can run, play, and chase other dogs in large fenced off-leash dog areas. Water fountains are available in the small dog, and large dog play sites. There are walking/jogging trails too near the reservoir. Previous visitors reported that you can let your dogs play in the water but beware as they can get really muddy after.
TailWaggers Massage (Torrance, CA) is a dog hydro fitness and swimming facility in Torrance. Whether your doggie needs to learn swimming, undergo mobility therapy, or just have some playtime in the water, this facility has got your dog covered. They also provide dog massages alongside water therapy to help relax muscles and improve circulation. They have restorative, wellbeing, and sports massages on their massage menu. Their fitness programs are either assisted or self-service – the choice is yours.
Canyon View Ranch (Topanga, CA) is a first-class doggie wonder park. Complete with amenities like swimming pools, waterfalls, large enclosed off-leash play yards, tunnels, and lots of shady trees, this place looks too good to be true. If you want to give your dog a memorable holiday experience, this place seems to be a good pick. Apart from boarding, yard activities, and shuttle service, this facility also offers behavioral training and pet grooming.
California Dog Boarding (Corona, CA) is a dog training and boarding facility that sits on the hills of South Corona. They have super large play areas that allow for supervised playtime. There are dog swimming pools too, where dogs can stay cool and fresh even in the hottest summer months in California. Are you looking to train your pup with professional dog trainers? This training center offers personalized programs that meet your dog's specific needs.
Places Dogs Can Swim Near San Diego
Fiesta Island Dog Park (San Diego, CA) is a complete family recreational park. It has dog parks with fenced dog areas where you can unleash your dogs and let them run or play with other dogs. Plus, it's near the Mission Bay area so you can take your pooches, and let them enjoy the water and even swim in. Make sure to put your dogs on their leashes when walking in trails in the park areas.
Mission Bay Park (San Diego, CA) boasts of its more than 20 miles of white shorelines. It's known as the largest water park in the country. At the western side of Mission Bay you can get access to the water where you and dogs can swim and enjoy the summer sun. There are lots of amenities such as kids' playgrounds, basketball courts, bike paths, and more.
Dog Beach (San Diego, CA) is most likely the happiest place for pooches. It is famous nationwide for being the first official off-leash beach for our canine companions. Beach goers, pets, surfers, and visitors come together at Dog Beach and celebrate the ocean together. That's why it's dubbed as the "melting pot" for dogs. If you visit this place, expect to meet dogs in all shapes, colors, and sizes!
Coronado Dog Beach (Coronado, CA) is also an off-leash beach for dogs that's located just in front of Sunset Park. You can let your pooches run and play under the sun, on the beach. They can also take a dip or swim in the water! A place where dogs can be as free and playful as they want. Be mindful of on-leash areas. The bonus is a grassy park with a playground for children. Take your family and canine members if you want summer water fun with the entire squad!
Dogs Tired San Diego (San Diego, CA) is a private facility that offers off-leash walking adventures for your dogs. They take pride in their dog-happiness-centric philosophy that says " A tired dog is a happy dog". Lots of services on their menu, including their adventure-filled guided off leash walks. Not only that, they also hit the beach at Fiesta Island every day where they allow dogs to run, play, and splash around in the water. If you want your canine pet to enjoy group plays, nature walks, vacay-like boarding services and more, this facility has got you covered.
K9 Aquatics (Santee, CA) offers you canine swimming, hydrotherapy and rehabilitation services. Whether your dog needs therapeutic help or you simply want to bond with your pooch in the water, you're most welcome at this dog wellness facility. It's about swimming, healing, and water fun at K9 Aquatics. Newbie or expert swimmers can join anytime. If you're ready for some water fun, book one of their swim sessions at your convenience.
Canine to Five (San Diego, CA) is a dog daycare and swimming facility. You can have your dog trained how to swim along with expert trainers and even chaperone dogs! Have you got a senior dog that needs hydrotherapy? You can bring your pet to this center for a regular one-on-one pool time. This place is also a great way to let your shy dogs learn how to socialize with other pooches. If there's one thing that clients love about this facility, it's the healthy play environment for dogs.
Places Dogs Can Swim Near San Jose
K9 Keep Fit (San Jose, CA) is a daycare with boarding facility for dogs. Their daycare service is filled with engaging activities for pooches. Your dog will enjoy supervised morning and evening socials and neighborhood walks along with the pack! They have a special lounge for small and senior dogs that are more suitable to a gentler environment. Of course, fun time in the pool is included in their morning action time along with other action-packed activities that our dogs will love.
Wagtopia (San Jose, CA) highly is a doggy daycare that is highly recommended by canine owners. They offer a daycare camp that is most suitable to outdoor-loving dogs. Their outdoor pack adventures happen at Bay area hiking trails, at the beaches and coastline, and at the lakes or reservoirs. Just make sure that your dog has completed its vaccinations so your pet can take part in this day camp. What's more, they offer transportation services as well, both pickups and drop offs. When you're ready to enroll your fur buddy, just create your own Wagtopia account.
Dog Pool Club (San Carlos, CA) boasts of their off-leash indoor swimming pool that's first in the world. This doggy pool club has lots of water activities for your water-loving pooch. And even if it's your dog's first time to swim, this place is kind and friendly to newbies. They provide life vests and if necessary. They also have a small wading pool anyway if your pet needs some time to get used to the water first. And if your dog doesn't really like the water, then the club has an outdoor play park with lots of toys that they can play with. Unlike other dog parks, they require that your dog be vaccinated before they allow your pet to socialize with other pooches.
Aqua Dog Canine Swim Therapy (Los Gatos, CA) is a private canine hydrotherapy center that aims to help improve injured dogs' quality of life. Has your dog undergone surgery or gone through a traumatic injury? Then this place has programs that will help restore not only your dog's physical strength, but also esteem. This facility will help speed up your dog's healing process in a natural way. As they say, water allows therapeutic exercises with minimal discomfort for your dog. If you want to help your dog fight boredom and revive their energy, then take your pet to this swimming center.
Lake Del Valle (Livermore, CA) is a 5-mile long lake where our dogs can freely swim, except in the East and West Swim beach areas. Other than letting your dogs jump in and play in the water, there are lots of other nature activities that you can do along with family. There are walking trails, campgrounds as well as picnic areas. Or just enjoy the scenic views of the beautiful hills covered with oak trees. If you're into fishing, all you need to do is get a fishing permit and go fishing trout, bass, catfish, and other fish in the lake.
The Rex Center (Pacifica, CA) is also an aqua therapy center for dogs. Regardless of your dog's age, if your pet has physical injuries or conditions that can benefit from exercise in warm pool water, you are welcome to book a private session. They only accept dog clients by appointment. Pups and senior dogs are also welcome to enjoy their low impact, gentle, restorative body conditioning exercises. When in doubt, you can always check with your veterinarian before setting up a swimming appointment.
Shinn Pond (Fremont, CA) is a pond situated in the Niles Community Park. It's a place to be with your pup if you live in Fremont. You and your dog can splash-play in the water. Dogs can run off leash on the beach too! Besides the pond, there are walking trails, grassy park, picnic areas, and water stations for both people and pooches. Parking areas are available near the site too. If you want to enjoy nature, breathe fresh air, socialize with other pet owners, let your dogs play off leash, Shinn Pond is a highly recommended place.
Doggie Adventures (Los Altos, Mountain View, Palo Alto, Menlo Park, Atherton, and Redwood City areas) offers daily beach adventures for dogs! Yes, if you want your dog to enjoy quality beach time and lots of pack water and land adventures, go ahead and take advantage of this service. Besides wading and playing in the seawater, dogs will also take part in long off leash hikes with their trained supervisor, along the coastlines of California. Does your dog need an active yet nurturing environment? Simply book an outing.
Places Dogs Can Swim Near San Francisco & Oakland
Fort Funston Beach Park (San Francisco, CA) is a beach on San Francisco's Pacific Coast. It's a part of the Golden Gate National Recreation Area. Your dog can have fun on the beach and in the water as this beach is an off-leash area. Previous pet owners reported that it's the best dog-friendly beach on the planet. Your dog can run freely and also swim in the ocean. Please take note, however, that while it is off-leash, the law requires voice control. Otherwise, put them on a leash. There are amenities in the area, including trails, viewing decks, and walking trails. If you plan a day out with family, there are other activities to enjoy too, such as fishing, biking, and beachcombing.
Crissy Field – East Beach (San Francisco, CA) is a beach on the eastern side of Crissy Field Park at the Golden Gate National Recreation Area. Dogs are allowed on the beach off-leash, but voice control is necessary. Both dogs and their owners can enjoy swimming in the sea. Besides, you can enjoy sunbathing, walking, running, hiking, bird watching, and more with your furry companion. There's also enough space for parking on the East Beach. You will have access to toilets, drinking stations, and hiking trails.
Crissy Field – West Bluff Beach (San Francisco, CA) is the beach on the western end of Crissy Field Park. Just like the East Beach, dogs are allowed off-leash under voice control. Dogs can also swim in the ocean if they like. You will have a full view of the Golden Gate Bridge from this area. There are grass fields too. That's why West Bluff is a popular picnic area. If you want to get access to the grill, be there as early as you can. Restrooms, parking, trails, and drinking stations are also accessible.
Ocean Beach (San Francisco, CA) is a wide beach where dogs can run and play off-leash as long as they're under voice control. While you can let your dog splash in the shallow and calmer parts of the sea make sure to avoid areas with danger signs. This beach is known for its "rip currents". Thus, please use your best judgment on whether to allow dogs to play in the water or not. But you can bring a life vest just in case. The areas from Sloat Boulevard to Stairwell 21 are on leash. Amenities include restrooms, promenade, bike lane, zoo, and firepits.
Mile Rock – Lands End Beach (San Francisco, CA) is a cove located in the San Francisco Bay area. This beach is a bit rocky compared to other beaches in the area. However, dogs are also welcome to this beach. They're allowed to run around off-leash as long as they're under voice control. You will also have access to picnic tables, trails, a lighthouse, shipwrecks, and more. If you want to have a short but memorable excursion with your pup, make sure to bring your camera along to take snapshots of scenic views around the area.
Baker Beach (San Francisco, CA) is another beach where your dogs can freely play and run around without leashes. Again, voice control is required. Otherwise, you can put your dog on a leash. The Northernmost portion of the Baker Beach is an area where sunbathers can have the option of going sans clothing. You can avoid that portion of the beach if you dislike the idea of seeing nude beach-goers. Anyway, this beach is a mile-long beach with an extensive view of the Golden Gate Bridge. The current might get too strong for dogs. Use your best judgment. But you may consider bringing a vest for your dog just in case your pet gets caught off guard.
Esplanade Beach (Pacifica, CA) is also a great beach for pooches to run and play in the water. Take note that dogs are allowed off-leash only on the northern end. Also, tides can get too strong for your fido, so use your best judgment when to allow your dog to jump in or not. If you want, you may bring a life vest. There are other things that you can do with your dog in the area apart from dog walking. Surfing and fishing are also allowed.
Rodeo Beach (Sausalito, CA) is an expansive pebble beach, a popular surfing destination. Besides, it is dog-friendly too. Dogs are allowed off-leash in the area but under voice control. If you go with your family, this place is also great for barbecues and picnics. There are trails, toilets, picnic tables, and a lagoon. The ocean here is also prone to big waves and strong currents. Therefore, make sure to keep an eye on your dog if you let it go off-leash along the shores near the water. If you want to explore more, there's also a more secluded small cove on the southern end of Rodeo Beach. You and your dog are also allowed to visit there. But if you don't like to see nude sunbathers, then stay on the north end.
Muir Beach (Muir Beach, CA) offers an idyllic beach getaway for you and your canine companion. There's a creek that flows down to the sea, but some water forms a lagoon near the beach. Dogs are allowed on-leash or off-leash under voice control. However, dogs must be on a leash if you use the Kaashi Way or coastal trails. This beach is formerly named Bello Beach. Restrooms, picnic tables, and fire pits are accessible at the location.
Albany Beach (Albany, CA) is also called Buchanan Dog Beach. It's a wide beach where you can bring your pooch along. It's not called a dog beach for no reason. Dogs are allowed not just to run and play on the shore but also to swim in the water. Your dog will have lots of fun splashing around and jumping in the waves. You will have access to trails, restrooms, parking, and other enhancements at the bay.
Pine Lake Park (San Francisco, CA) is one of the most popular parks in San Francisco. That's not surprising because there are lots of beautiful sights to see. There's a scenic lake and eucalyptus grove. Dogs are allowed off-leash at the park. Previous visitors reported that swimming in the lake is not for people, but dogs can swim there. And even if you walk with your dog or sit on a bench overlooking the lake, that will be a great bonding experience with your furry buddy.
John McLaren Park (San Francisco, CA) is the 2nd largest park in San Francisco. There are lots of activities to do in this recreational area. You can walk on trails with your dog, have a picnic, play tennis or volleyball, and more. Dogs are allowed off-leash in the dog play area. There's also a pond where dogs can swim. No wonder it's a go-to place for many dog owners.
Furball Fitness Dog Camp & Daycare (Oakland, CA) is a private daycare and dog camp facility. If you want a cage-free, off-leash daycare for your dog, this place can offer you just that. They have a huge 2000 square foot facility where dogs can run, play, and socialize with other pooches. Other than typical doggy indoor and outdoor play, your dog can also take a dip in the pool, especially in the summer. There'll be lots of exercise for dogs. The bonus is canine guests can get VIP access to a dog camp at Point Molate for some outdoor or coastal adventures.
Dog Social Club (Oakland, CA) takes pride in its dog-oriented daycare and boarding facility. It has lots of play areas and features designed with dogs in mind. Dogs are grouped according to age, play style, and energy level. They will be formed into groups with one supervisor per group. There's also a puppy area to keep young pooches from active adult dogs. If your dog enjoys the water, then splash pools and sprinklers are available for dogs too.
Places Dogs Can Swim Near Fresno
Dr.James W. Thornton Dog Park (Fresno, CA) is a 1.5-acre dog park located in Fresno. It's part of the Animal Valley Center, a "no-kill" dog, and cat shelter. They also provide low-cost vaccination, neuter, and spay services. This dog park has a big dog wading pool with water jets that water-loving pups will enjoy. The center also features an agility playground, a spacious grassy area with trees where dogs can run, play, and socialize with other pups. That area is divided into canine runs based on dog size.
Elaine's Pet Resorts (Madera, CA) is a doggy daycare and boarding facility. It is open seven days a week to serve more canine guests. Other services include pet grooming and training. This canine resort features water parks and beach entry doggy swimming pools with artificial turf. Therefore dogs can have a chance to relax, enjoy, and play like a real dog. The facility promises that your dog will learn to socialize with other dogs, have muscle-boosting exercises and receive positive stimulation.
Basin AH1 Dog Park (Fresno, CA) is a seasonal dog park that offers wading pools for dogs during the hot summer period. Pet owners who took advantage of this park reported that the park has a large area for dogs to run around, play, and interact with fellow canines. The facility provides tennis balls for dogs to play with. There is also an open space where you can walk your dog. They have a wide parking area as well.
Millerton Lake (Fresno, CA) is a state recreation area that offers guests fishing, boating, and swimming activities. And the bonus: it is a dog-friendly recreation site. It has plenty of space where dogs can run and play. Visitors reported that it is an off-leash area as well. However, they make sure that the dogs are always in check. They also said that the waters are pretty murky, so use your best judgment if you decide to visit or camp with your pet. There are lots of camping sites, boat ramps, and restrooms to use
Shaver Lake (Fresno, CA) is about an hour away east of Fresno. The lake area is dog-friendly. Visitors also reported that dogs can wade and swim in the water but only at non-designated swimming areas. Multiple campsites are available. Typically, leash laws are applicable on the campgrounds. Other recreation activities that the lake has to offer include rock climbing, water-skiing, sailing, hiking, biking, and more.
Places Dogs Can Swim Near Sacramento
Animal Den Pet Resort – Local Bark Park (Sacramento, CA) is a pet resort that offers daycare and swimming services for dogs. As it is a popular pet boarding center, advance bookings are recommended. They offer pet daycare and boarding services that include lots of physical and engaging activities for dogs. This resort has a swim center that offers private one-on-one swim sessions. One of the highlights in this facility is the member-exclusive Local Bark Park. It has a huge pool just for pooches. The park also has lots of play structures that will boost dog strength and social skills. The bonus: "barktenders" that will treat doggy guests like VIPs.
Sutter's Landing Regional Park (Sacramento, CA) is a massive park that features basketball courts, skate parks, walkways, restrooms, parking lots, and a dog park. The dog park has separate areas for small and big dogs. Previous excursionists reported that it's a great place for dogs to interact with other dogs. There is also a nice river where dogs can play and take a swim if they want.
Sam Combs Park (Sacramento, CA) is a dog facility managed by the City of West Sacramento. It features a picnic area, walking paths, tot lot, barbecues, and of course, an off-leash play area for dogs. It's a combination of a grassy and sandy area where dogs can freely run around and play. Visitors also reported that there are dog pools, especially during the summer.
Extreme K9s (Sacramento, CA) is not your typical pet sitting or dog walking service. They cater to dogs who love the outdoors and nature. Your dogs will walk in packs with 2-5 members. Along with their human leader, they will walk, run, jump and romp at the river for an hour. They are also given time to swim for doggy swimmers. If you want your dog to experience a pack-style outdoor adventure, you can schedule your pet for an assessment.
Sunrise Beach Recreation Area (Sacramento, CA) The Sunrise Recreation Areas have walking trails that lead to the river. The water current isn't strong. You can find a shallow inlet if you're interested in allowing your dog to wade in the water. There are other areas off the bike trail near Fair Oaks Bridge.
Paradise Beach (Sacramento, CA) is a popular swimming destination for families. Visitors reported that there's a protected cove called Dog Beach by the locals. The water is calm, so dogs can wade in or play with you in the water. As per the Regional Park's website, swimming is a popular activity, but it's at your own risk. Fishing is also another activity that visitors can enjoy during the off-season.
Auburn State Recreation (Auburn, CA) is an excellent place to have a weekend getaway with your canine buddy. Pets are allowed on a leash no longer than 6 ft. Note also that your dog must be enclosed in either a vehicle or a tent if you stay overnight. Some of the area highlights include hiking, fishing, camping, biking, gold panning, and of course, splashing in the refreshing river.
Bonus places: There are public pools in Sacramento that welcome pooches at a certain time of the year. For instance, there is one at Pannell Meadowview Pool and at West Sacramento Recreation Center. To find out more about the event, specifically when it happens and how to join, you may contact those locations directly. \
Places Dogs Can Swim Near Stockton and Modesto Areas
Sycamore Lane Kennels (Lodi, CA) is a private dog daycare and boarding facility located on an estate in Lodi. The facility features dog training, grooming, daycare, boarding, and canine play yard activities. Many previous guests give them high star ratings for excellent and professional services/ The facility is also very clean according to reviews. They have shared images of a nice environment, including a pool where dogs can swim in or play.
Tuolumne River Regional Park (Modesto, CA) is a huge urban parkland located in Modesto, California, a development along the eleven-km stretch of the Tuolumne River. The park features a biking trail, picnic areas, playfields, and more. It aims to provide a good blend of passive and active recreation opportunities for local visitors and tourists from other parts of the country and the world. There is also a river where dogs can swim on-leash as reported by previous visitors. They warn future excursionists with dogs to be careful in the water as some spots have a strong current.
Top-Notch Kennels (Modesto, CA) is a private doggy daycare and boarding facility where dogs can stay and also play. This facility features spacious pet suites, fun and stimulating activities for pooches. If you want to spoil your pup, you may also take advantage of their extra services such as group playtime or one-on-one play, in-house training, and pet grooming. The group play includes lots of off-leash playtimes in the yard and water fun in the pools during the summer season.
Don Pedro Lake (La Grange, CA) is a recreational site and reservoir near La Grange and Moccasin communities. While you can't take your dogs to developed campsites, dogs are allowed in boat-in camping areas and undeveloped parts of the lake. If you want to camp out and take your pet with you for a fun water getaway, Don Pedro Lake might be a great destination.