Dog Friendly Swimming (Beaches, Lakes, Parks, & Pools)
Swimming can be the perfect summer activity to enjoy with your dog, a fun way to bond, get some exercise, and cool down, all at the same time. Swimming can also be a gentle and effective therapy for injured, older, or overweight dogs. But how do you find the best places dogs can swim?
If you've been looking for a way to keep them happy in the summer heat, look no further! Here are a few of our favorite places where dogs can swim:
Dog parks with pools
Hydrotherapy Veterinary Clinics
Public Swimming Lakes
Public Beaches
Pet Friendly Hotels
Pool in your backyard
Dog Friendly Swimming By State
This is a list of places dogs can swim in each state. It's is a work in progress, we plan to cover all states. If your's is not listed yet please scroll down and see if some of the information below is helpful to you.
| | | | | |
| --- | --- | --- | --- | --- |
| Alabama | Hawaii | Massachusetts | New Mexico | South Dakota |
| Alaska | Idaho | Michigan | New York | Tennessee |
| Arizona | Illinois | Minnesota | North Carolina | Texas |
| Arkansas | Indiana | Mississippi | North Dakota | Utah |
| California | Iowa | Missouri | Ohio | Vermont |
| Colorado | Kansas | Montana | Oklahoma | Virginia |
| Connecticut | Kentucky | Nebraska | Oregon | Washington |
| Delaware | Louisiana | Nevada | Pennsylvania | West Virginia |
| Florida | Maine | New Hampshire | Rhode Island | Wisconsin |
| Georgia | Maryland | New Jersey | South Carolina | Wyoming |
No matter where you are in the world, you should be able to find a place where dogs can swim near you. We plan to get this list finished soon. So if you don't see your state yet check back. We are working behind the scenes to get things ready.
Buy a Portable Dog Friendly Pool For The Backyard
If you don't want the hassle of traveling somewhere for your dog to swim, you should buy a doggy pool. There are some durable (and affordable) portable pools designed for dogs. They are about the size of a kiddie pool but they are more resilient and can take a beating. They are puncture proof as well.
The dog-friendly pools are made with a durable PVC material, but just in case, be careful not to leave them out in the heat of the sun. Heat can make the pool fold in on itself. They will last years if they are well taken care of.
Start With A Wading Pool
With just a hose and a shallow pool or plastic baby bath, your dog can have fun swimming in your own backyard.
A wading pool is a good place for puppies and dogs who are new to swimming to practice before venturing out to larger bodies of water. You can also use this time to let them practice wearing a life jacket while they play. Dogs will learn to associate water and swimming with fun time with their owners.
Place the pool in a grassy area so dogs can run freely and keep the mud at bay. Provide a few pool toys for a cool game of fetch. Consider inviting other dogs and placing a sprinkler nearby to add to the fun.
Portable dog pools come in many sizes, both soft and hard-sided.
Before purchasing a dog pool, make sure it is the appropriate size for your dog; big enough to play and small enough that he can jump in and out easily. Help your dog practice getting in and out of the pool, and make sure the water is shallow enough that he won't get exhausted or inhale water. Never leave dogs unattended in wading pools.
Swimming In A Full-Sized Backyard Pool
Whether you have your own backyard pool or have been invited to swim at a friend's house, there are several ways to make swimming in a private pool both enjoyable and safe for your dog.
First, walk him a couple of times around the pool, letting him get used to the area's sights, sounds, and smells. If your dog is new to swimming, have him wear a well-fitting life jacket with a handle at the top. Underneath the life jacket, attach a harness with a long leash. (See "Safety Tips For Swimming With Your Dog).
Next, make sure you practice approaching the pool at the entrance/exit point. Using rewards and words of encouragement, make sure your dog knows this is the only place to enter and exit the pool.
Since dogs won't be accustomed to ladders and steps in pools, they may be fearful of them at first. Be sure to help them practice climbing in and out of the pool. It is important that they become comfortable enough to exit the pool on their own, just in case they fall or jump in when you aren't there to help them get out.
Pool Activities For Dogs
There are many fun games for dogs to play in backyard pools. You can pull him around on a paddleboard, play fetch with lightweight toys that are easy for him to hold while he's swimming, and invite other dogs to play. Some dogs can even learn to dive for toys and leap into the water.
Is Chlorine in Swimming Pools Dangerous For Your Dog?
The amount of chlorine in a swimming pool isn't enough to be dangerous for your dog according to Dr. Klein, Chief Veterinary Officer of the American Kennel Club.
You can limit their intake of chlorinated water by making sure they drink fresh water before swimming and discouraging them from drinking from the pool.
Chlorine tablets are a hazard for your dog, however. Make sure chlorine and any other pool chemicals are locked away, so your dog isn't tempted to ingest them.
After swimming, you can rinse your dog quickly to remove any chlorine that may be left on their coats. Dr. Klein suggests also drying their ears to prevent dampness and infection.
Some dog owners choose to use chemicals like Bromine instead of Chlorine because they are safer for animals.
Dog Parks
Dog parks offer fenced areas to run and play with other dogs. Many are equipped with dog-friendly places to swim; docks and islands, sprinklers and splash pads, swimming pools, beaches, and grassy areas for running freely.
Dog parks are good places to go if your dog is new to swimming and needs to learn to enjoy being in the water. The joy of seeing other dogs and their owners swimming is contagious and will help encourage your dog to relax and have fun.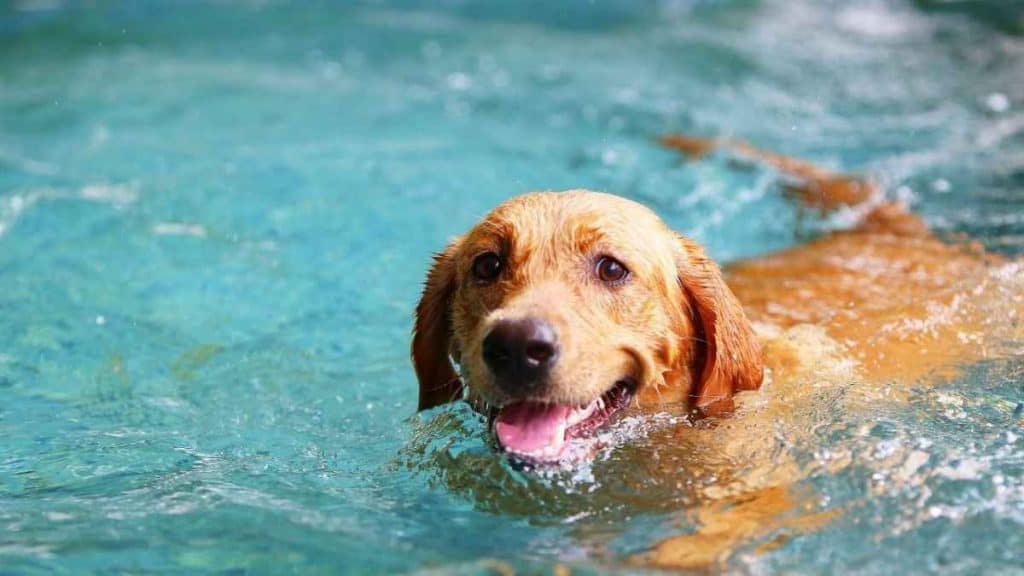 Safety Tips For Swimming in Dog Parks
For new swimmers and dogs that aren't natural swimmers, provide a well-fitting dog floatation device with a harness underneath. Attach a long leash to the harness. Take a walk around the area to familiarize your dog with the sounds and smells.
Be sure to offer your dog a drink of fresh water to discourage them from drinking from the swimming area.
Provide safe, small toys for fetch. A too-large toy or stick can create a dangerous situation in which your dog struggles and becomes exhausted while trying to swim with it back to shore.
Be sure to check rules and guidelines for people who plan to accompany your dog to a dog swimming park. Because dogs of many sizes will be running and playing, there are often age restrictions on who may enter the park for the safety of small children. Baby strollers and children under six (and sometimes as old as twelve) are sometimes prohibited from entering.
Dog Daycares
If you want your dog to have some cool summer fun while you're at work, many dog daycares provide group swimming times.
Dog daycares can provide dog-friendly amenities like swimming pools with shallow areas and sloped, easy entrances and exits. Some dog daycares offer swimming classes with a supervised introduction to water agility, games like diving for toys, and long-jumping into the water.
Many dog daycares also offer warm, year-round pools and spa services like baths, grooming, and nail trimming.
You may even be able to check on your friend during the day via "camp-cams," video cameras placed throughout the daycare that allow owners to log in with their phones and watch the fun.
Dog daycares provide a terrific way for your dog to enjoy supervised swimming and water activities year-round. Best of all, when you pick your dog up after a long day at work, he will be exercised, happy, and ready to relax with you.
Public Parks
Because dog swimming has become such a popular activity, many public parks include designated areas for dogs to enjoy the water. You can find calm ponds and streams, water fountains, splash pads, and even small islands for dogs to swim back and forth to their owners.
Most public dog parks offer double-gated entrances and separate small dogs to feel safe. There are benches for owners to sit and watch the fun. You'll find grass-covered areas to get some sun and places to spread out a towel under the trees.
Look up your local Department of Parks and Recreation to see which parks in your area provide friendly places for dogs to swim.
Public Pools
Some public pools open for special events that allow dogs and their owners to swim together throughout the summer. Others open their pools for dog swimming events only at the end of the season, just before the pool is scheduled to be closed. Dog swimming events are closely supervised by staff to keep everything safe and clean.
These events often double as fundraisers, providing income to local animal rescues and other dog-friendly charities. Check with your local public pool or your city or county Department of Parks and Recreation to see if this popular event is scheduled in your area.
Lakes
A clean lake with a gentle, sloped beach might be one of the safest and most fun places for your dog to swim.
Getting to the lake can an enjoyable part of the adventure. Many lakes can be reached easily by car, providing nearby parking spaces or campgrounds. Alpine lakes can often be reached with just a short hike.
Before you enter the water, check with locals to make sure the area provides a gentle slope without a steep, unexpected drop-off under the water. Also, check to make sure pollutants such as blue-green algae, which can be fatal to dogs who ingest it, haven't been an issue in the area. Talk to dog owners who live in the area or check out dog and hiking groups via social media like Facebook and Instagram. Call the local, state, or federal agencies that monitor the lake. Once you have scoped out the area and made sure it is safe, you and your dog can spend the day wading, swimming, and exploring.
Some lakes have nearby businesses that rent kayaks, canoes, or paddleboards, with lessons that teach dog safety on small boats. If you plan to take dog boating safety lessons, be sure to bring a well-fitting dog flotation device and a harness with a long lead.
Lakes often provide docks that are either attached to the shore or floating nearby. Bring a picnic for you and your dog and claim one of the docks for the day. Pack a few small toys for playing fetch and a beach umbrella or tent for shade.
Dogs can get distracted and confused by unfamiliar sights and sounds, and by interesting smells and the attention of other dogs and people. If they lose sight of you and think they are lost, they can panic and run.
Attaching a dog tag to his collar with your address and phone number is essential. Also, make sure your dog is microchipped and that the chip contains your current contact information, just in case your dog gets separated from you in an unfamiliar area.
Pay attention to the water temperature in alpine lakes. If your dog swims for too long and gets cold, she may benefit from a towel and a warm fire.
Rivers
Some of the best swimming places for dogs can be found during camping trips or hikes. Finding a river or a stream on a hot day might be an irresistible source of fun for your dog. There are a few things to consider to keep them safe.
It is difficult to tell how deep a river is, even when the water is clear. Rocks at the bottom that appear to be within arm's length might be ten feet down or even deeper. In addition, the depth of a river often changes with the seasons. While crystal clear water is one of the most appealing features of wild rivers, this difficulty in gauging depth is something you should be aware of before swimming with your dog.
Check with residents and find out where they let their dogs swim. Throw a stick into the water to see how fast it is moving. Make sure the water is shallow and slow-moving. Don't let your dog enter the water unless you are confident it is safe, and make sure he is wearing a well-fitting life jacket at all times.
Swift water isn't the only danger to avoid. Stay away from areas on a river where water is slowly roiling on the surface. There is likely an undertow that could pull your dog under without a life jacket or an unpredictable current that could take them quickly downstream.
Also, avoid murky, standing water or sloughs that might be found along rivers. Standing water is a breeding ground for algae and parasites that might be dangerous for your dog.
High in the mountains, most running water is clean enough for dogs to drink. However, if you are visiting a well-traveled area or there are pastured animals like cows and horses nearby, break out the water dish and give your dog a good drink of clean water before you let him swim.
Again, in any remote area, make sure your dog wears a tag and microchip with your current contact information. Many beloved dogs are lost and then found by locals and animal rescues in remote areas where river sports are popular. These steps will make sure your dog is quickly returned to you.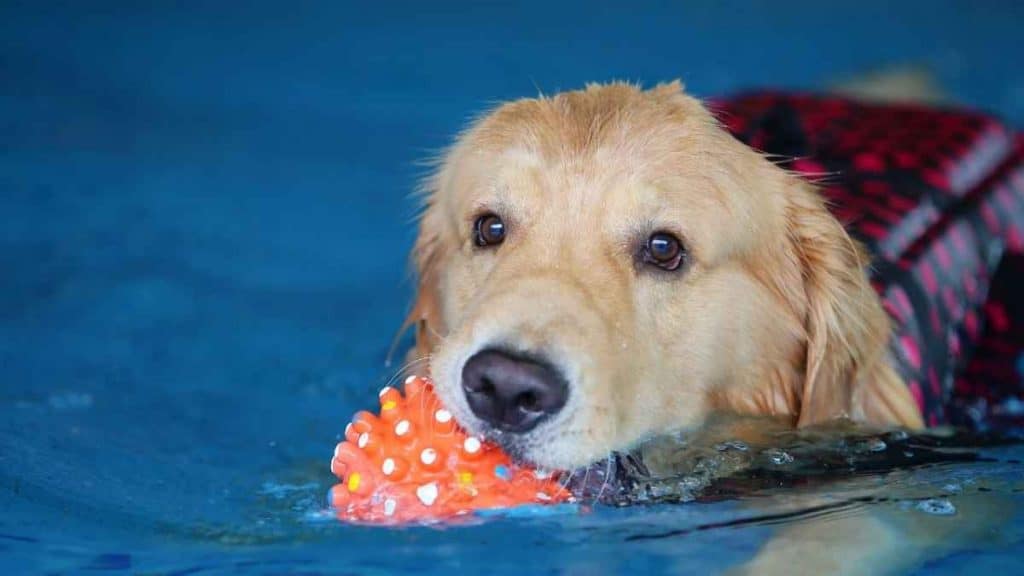 Creeks and Streams
It can be great fun to find a small, clear stream during a hot day of hiking with your dog. Especially during spring runoff, creeks can appear in unexpected places. Most creeks and streams are small and clean, great places for your dog to swim.
They can romp in natural pools or hike upstream with you to search for small waterfalls. If you are certain the water is shallow enough (if you can see the bottom rocks sticking up through the water), you can wade to islands in the middle of the stream, perhaps taking a fishing pole and a picnic, and spend a fun day with your dog enjoying the outdoors.
Because mountain streams are either recently melted snow or cold water flowing directly from underground springs, make sure it isn't too cold for your dog to swim. The ideal temperature for swimming should be: air temperature plus water temperature equals at least 100 degrees.
Make sure your dog takes frequent breaks from swimming in cold water. Dry him off and let him warm himself in the sun and provide high-calorie snacks and water. During seasons when fire danger is low, fires for warmth can be built-in clear areas.
Though streams may appear to be clear and pristine, it's still a good idea to carry fresh water or a portable water filter because it's not always possible to know if there are pollutants such as free-range cattle or other animals upstream. It's always better to be safe than sorry.
Organized Dock Diving
Some dogs are born to swim. They are often working dogs whose ancestors have been bred for hundreds of years to retrieve and rescue. These working water dogs have the energy to swim for long periods. They benefit both physically and mentally from being given a job to do, and they can't seem to get enough swimming, retrieving, and diving.
If you are the owner of one of these athletic wonders, you may want to try organized Dock Diving. This quickly growing sport is widely available in many areas of the United States and Australia.
Dogs can do dock diving in many places that provide large areas of calm water, such as large pools, lakes, and calm rivers. More and more communities are organizing clubs that introduce members and their dogs to dock diving. They also help with training and provide fun competitions.
Organized Dock Diving includes three separate sports. Dogs may choose to participate in only one sport or compete in all three in an event called The Iron Dog Challenge.
Big Air – A long jump over the water, using a floating toy as the goal
Extreme Vertical – A high jump over the water, using a hanging toy as the goal
Speed Retrieve – The dog is timed as she retrieves a toy at the far end of the pool and swims back to the dock
Community Centers across the country offer classes for beginners. Taking a few lessons with other dog owners would let you see if organized Dock Diving is a good fit for your dog. Lessons would also provide opportunities to meet other like-minded dog owners, find new friends for your dog, and discover new dog-friendly places to swim.
Once you and your dog have learned the ropes, a road trip to a competition might be just the thing for a fun road trip together. Local, regional, and national events take place year-round, with Worldwide Championships held every year.
For more information on Competitive Dock Diving, visit https://dockdogs.com/get-started/
To find nationwide affiliates and clubs, visit https://dockdogs.com/affiliates-clubs/
Oceans
While a day at the beach can be as fun for dogs as it is for their human friends, there are some possible dangers to consider. A little preparation will help keep your dog safe.
Look for a wide beach with a gradual incline. Check surf reports and talk to life-guards and local dog owners to see where they visit the ocean with their dogs. Avoid swimming during high tide. If you think the area would be safe for a small child, then it would likely be a good place for your dog to swim.
Make sure there are no known rip-tides in the area. A rip-tide is an often-invisible current that leads directly out to sea. The way to escape a rip-tide is to swim sideways until one escapes the current, and then swim back to shore. But a dog wouldn't know this, and would exhaust himself trying to make it back to the beach while being pulled farther and farther out to sea.
Anytime you intend to swim in the ocean with your dog, make sure he is wearing a harness with a long leash, layered with a well-fitting flotation device, and keep him close to you. Large waves and rip-tides can overcome even an experienced swimmer.
Keep him hydrated and cool with plenty of fresh water so he won't be tempted to drink salty ocean water. Provide snacks to keep up his energy, sunscreen for ears and nose, and an umbrella or other shelter from the sun.
If your dog coughs or vomits after swimming in the oean, he may have swallowed too much salt water. Contact your veterinarian for possible treatment.
Salt water can also irritate your dog's skin. Some beaches provide access to a hose or shower for a quick rinse after swimming
Surfing and Paddle Boarding
Dog surfing and paddle-boarding lessons are provided in many beach towns across the country. Check local listings. For some fun inspiration, check out the Facebook group for World Dog Surfing Championships:
https://www.facebook.com/worlddogsurfing
Kayaking and ____boarding
https://www.facebook.com/groups/472866232893103
Hydrotherapy For Dogs
For dogs, hydrotherapy, which means "water therapy," usually means swimming or walking in water. Dogs may use an underwater treadmill or a beach with shallow water.
Hydrotherapy can be healing for sore joints. It is also an effective way for dogs to recover from an injury or surgery. This form of supervised exercise in water is also beneficial for senior or overweight dogs who need a gentle and safe way to move, lose weight, and build strength.
For sporting dogs, hydrotherapy can be used recreationally to help increase endurance and build muscle.
Be sure to consult your veterinarian before treating your dog using hydrotherapy.
For more information, visit the Canine Hydrotherapy Association.
Places Dogs Should Avoid Swimming
Irrigation Canals
According to the U.S. Army Corps of Engineers, chemicals like acrolein and xylene are used to control algae and floating plant growth in irrigation systems. While these chemicals may be effective at keeping irrigation pathways free-flowing, they are not healthy for your dog.
The water in irrigation canals is used to irrigate rural fields and urban landscapes, collecting pesticides and other chemicals for miles and miles as they flow through those areas.
Irrigation canals may also harbor unseen hazards such as barbed wire, broken glass, and other dangers. As tempting as long, winding irrigation canals in country settings may be as a place for your dog to swim, they are best avoided. Instead, take your dog to safer areas like natural lakes, oceans, rivers, and streams.
Standing Water
Every year there are reports about dangerous algae blooms in waterways where people and animals swim. The cause of the algae blooms is usually standing water that has warmed enough to make it a good place for algae to grow.
Toxic blooms such as blue-green algae can cause severe gastrointestinal issues and even death, and at the very least, can irritate the ear, nose, and throat. If your dog starts to vomit or has sudden diarrhea, take him to your vet right away.
If your dog has jumped into standing water and you're concerned about contamination, give him a bath so he won't ingest possible chemicals or pathogens when he licks his fur and feet.
Urban Rivers And Streams After A Rainstorm
According to the University of California Integrated Pest Management Program, herbicides and pesticides from lawn and garden irrigation often flow directly into creeks and rivers via storm drains. If you have experienced a heavy rainstorm in your area, it's best to wait a day or two for storm drainage to clear before taking your dog for a swim.
Swimming In Remote Areas – Preparing For Possible Health Concerns
If you plan to take your dog swimming in remote places like national parks and BLM land, ask your vet about preventatives for Lyme disease, which is spread by ticks, and Leptospirosis, which can be spread by ingesting contaminated water.
Recommendations from the American Veterinary Medical Association for preventing Leptospirosis https://www.akc.org/expert-advice/health/what-is-leptospirosis-and-should-you-be-concerned/
Recommendations from the AVMA for preventing Lyme Disease:
https://www.avma.org/resources/pet-owners/petcare/lyme-disease-pet-owners-guide
Encounters with rattlesnakes are rare, but since dogs are often the first to encounter snakes on travels to remote areas, a little preparation can save a life. Look into professional snake avoidance training for dogs and talk to your veterinarian about vaccinating your dog against rattlesnake venom before you travel to places rattlesnakes might live.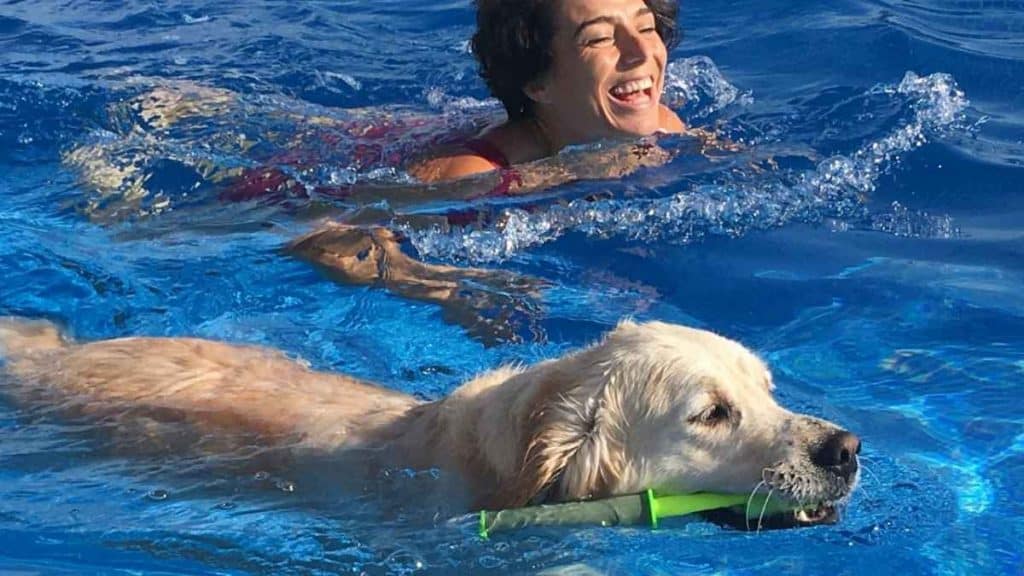 Equipment List For Your Dog's Swimming Day
There are a few things you can pack that will make your dog's swimming day the best it can be. Most will fit easily into a backpack.
harness and long leash
well-fitting life jacket
towel
sunscreen for noses and ears
treats for positive reinforcement and training
high-calorie dog food and snacks
fresh water and water bowl
well-fitting collar with an ID tag attached, with your name and cell phone number
microchip with current contact information
umbrella or small foldable tent for shade
Ways To Familiarize Your Dog With Water and Swimming
Don't assume your dog will be a strong, confident swimmer the minute he gets in the water. He might be afraid of water, or he might not be a breed for which swimming comes naturally.
"Not all dogs want to swim, and those that don't can be encouraged, but should not be forced," according to Dr. Klein of the American Kennel Club. The AKC recommends starting with a relaxed swimming lesson.
Ideas for a first swimming lesson for your dog:
Find a pool or lake that is quiet, with few distractions. You want your dog to be relaxed and focused.
Take a calm walk around the pool or along the shore, letting him take in the sights and smells and get used to the area.
Always approach the water near the stairs of a pool or near a shallow entrance to other swimming areas. You want to make sure your dog forms the habit of only getting in at a place where they could easily get out.
Think baby steps. Take him just close enough to get his front paws wet, giving him treats and praise every time he takes a step closer.
If he gets nervous, back away and wait until he feels comfortable again. Remember, give him praise and encouragement for any progress forward.
Gradually make your way to deeper water. Support his belly, or have him wear a flotation device with a harness and long leash underneath. Dogs who are new to swimming tend to paddle with their front feet and let their back feet dangle as they try to touch the bottom. A life jacket holds their body in a horizontal position, making them use all four feet, which is good swimming practice and is less tiring for them. (If you're in deep water with your dog you should wear a life jacket, too, in case he tries to climb on you).
Some dogs are not natural swimmers and will always need a life jacket to help support their bodies while they enjoy the water. Never throw a dog into the water, assuming they will be able to swim.
Safest Swimming Toys For Dogs
A cool game of fetch or dock diving for a toy might be the highlight of your dog's swimming day. Bringing toys along is an excellent way to bond and keep them safely nearby, happily engaged with you.
It's essential to put some thought into which toys are safest (and most fun). You might have seen a dog with a too-large stick struggling to make it back to shore, paddling frantically and making slow progress. Dogs can become exhausted when owners make the mistake of throwing large and cumbersome sticks or toys into the water for them to retrieve.
You can avoid this mistake by simply being aware that small, lightweight toys are best for swimming with dogs. Try small frisbees, flat rubber toys, and small shatter-proof sticks.
There are countless places dogs can swim, just waiting to be discovered. There are fun adventures to be had both locally and around the country, everything from organized dock-diving events to the delightful surprise of finding a hidden stream during a long hike. And there's nothing quite like seeing the sheer joy of a dog splashing along the beach near the ocean or jumping into a pristine lake high in the mountains.
With a bit of preparation and care, your dog can enjoy a lifetime discovering and enjoying those places with you.