What better way to make bonding time more fun and meaningful than shopping with our four-legged bestie! Below are some dog-friendly stores across the US.
Macy's
Home Depot
Petco
LUSH
Lowes
Pottery Barn
Tractor Supply Co
Bass Pro Shops
Barnes & Noble
The Apple Store
List Of Dog-Friendly Stores (That Allow Dogs)
#1 Macy's
Macy's is one of the top department stores in the US. And just like most department stores, they are generally pet-friendly. However, keep in mind that different branches may have different pet policies.
Make it a habit to always check your local branch before taking your pooch along on your next buying excursion.
Also, since Macy's is a popular shopping destination, chances are, it's a crowded place. Thus, it may not be the best shop for people-shy pets.
#2 Home Depot
As per the retail store's official pet policy, they allow service dogs into their shops. But most branches rarely check and seem to welcome our four-legged friends with a warm welcome.
But just to be very sure, you may call your local store and see if they allow dogs inside the store premises before going shopping with your pet.\
#3 Petco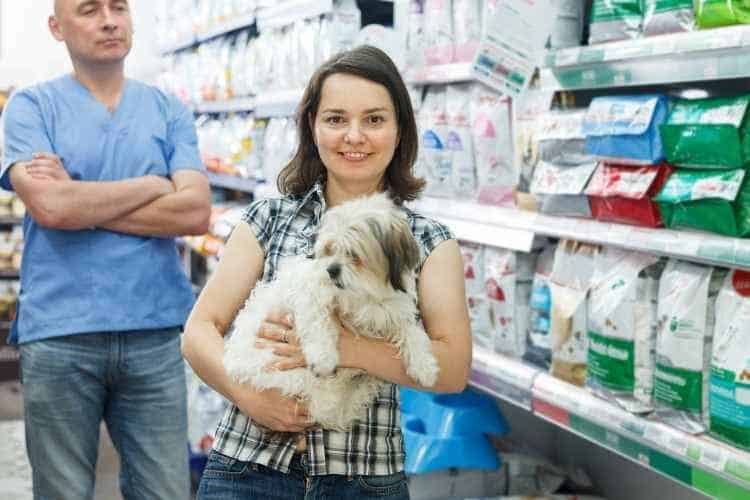 Yes, Petco is happy to allow vaccinated, restrained, and well-behaved dogs inside their stores. The well-known pet store indeed stays true to its commitment to all animals.
As a matter of fact, they even offer treats at the cashier! What pet won't love that?
So if you want your furry buddy to accompany you as you shop for doggy stuff, go ahead. Petco will be glad to see you.
#4 LUSH
This animal-friendly beauty shop remains faithful to its mission – to love and protect animals. No wonder our pooches will always be welcome to drop by at their stores.
The bonus – they even shower dogs with treats and plenty of pats and cuddles, as previous visitors had reported.
#5 Lowes
Although their policy states that they only allow service dogs into their stores, it's generally the discretion of the branch employees.
Most of them are willing to allow customers with dogs into their shop. If you're in doubt, you may ring your local branch before bringing your pet along.
#6 Pottery Barn
Pottery Barn is well-known for its top-of-the-line home decor and furniture. But more than that, they are also popular for being a nice place to shop with your fur buddy!
While they don't have an official pet policy, customers normally report having no issues with dogs shopping in their shops. A word of caution: make sure that your pet is behaved enough not to damage or hop on their displays!
#7 Tractor Supply Co
Well, you might think they sell only tractor supplies. No, they don't. They're a shop that sells a wide range of things, from home maintenance tools to garden and lawn supplies, clothes, and even footwear.
And guess what? They also sell lots of stuff for our canine buddies!
Apparently, they love dogs as we do. It's not surprising that employees are willing to allow customers with pets to shop at their stores. Previous shoppers even reported how friendly and welcoming they are to dogs.
#8 Bass Pro Shops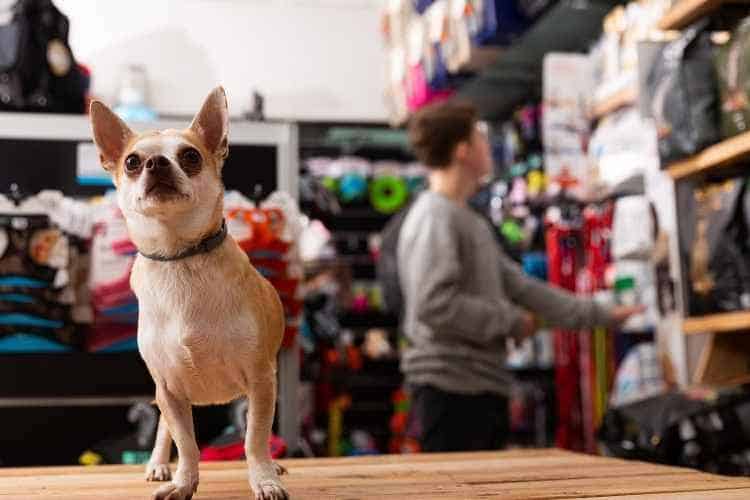 Bass Pro Shops is a retailer of outdoor recreational merch. They sell everything from hunting to hiking, camping, and fishing supplies.
As they advocate love for the outdoors, it does make sense they love animals too. Apparently, they allow customers to bring their pets along as they shop.
They even host Dog Days events that showcase the fun and engaging activities for pet owners and their dogs!
#9 Barnes and Noble
Barnes & Noble is not only a nice place to chill and relax with a good read, but it's also a dog-loving shop!
But there's one thing to keep in mind before bringing Fido along to one of their branches… Your pup is not allowed inside their coffee shops.
#10 The Apple Store
Apple is one of the big that has established a pet-friendly policy at their stores.
While they don't have it posted officially online, many customers reported that most Apple store locations are glad to accept guests with pets.
However, make sure that your dog is not scared of crowds. Since Apple is a popular buyer destination, it can really get busy most of the time.
#11 Banana Republic
The American retailer is known for its chic, top-class clothing and accessories. But they're not making waves only for being a go-to shop for corporate wear. They're also making a name as one of the most dog-friendly shops in the country.
According to this news article, they allow our pooches in their store. What's more, they also give away treats to make pets and pet owners alike feel most welcome. Awww.
#12 Nordstrom
Nordstrom is an American luxury chain that sells clothing, shoes, handbags, jewelry, and other premium accessories.
Other than being a globally-known premier department store, they are also a known pet-friendly store. According to this news article, dogs have been accepted in most shops. Just make sure they are on a leash when you bring them along.
#13 Urban Outfitters
Urban Outfitters is a lifestyle retail shop based in Pennsylvania. Not only do they sell hip and trendy clothing, but they're also a dog-loving community!
Previous shoppers reported that they have spacious shops convenient for customers who love to shop with their canine companions.
#14 Gap Inc.
Gap Inc. is a US brand of clothing and accessories. They also have retail locations worldwide.
As per policy, Gap stores accept pets in-store. However, not all location managers allow this. So it's best to make a call first before bringing Fido.
#15 Bath & Body Works
Bath & Body Works is one of the biggest names in the body care and fragrances department. But not only that. They're also a place where you can freely shop with your fur baby!
While there's no official pet policy on their website, shoppers have reported that they're indeed one of the most dog-friendly retailers in America.
One thing to note: some stores have smaller aisles. For your convenience, check out your local branch first before shopping with a large dog.
#16 Sephora
Sephora is a household name when it comes to beauty and personal care products. But it turns out, they not only satisfy your self-love cravings, but they also support the doggy lover in you.
That's right – Sephora has been reported to be a dog-friendly retailer by previous shoppers.
#17 Bed Bath & Beyond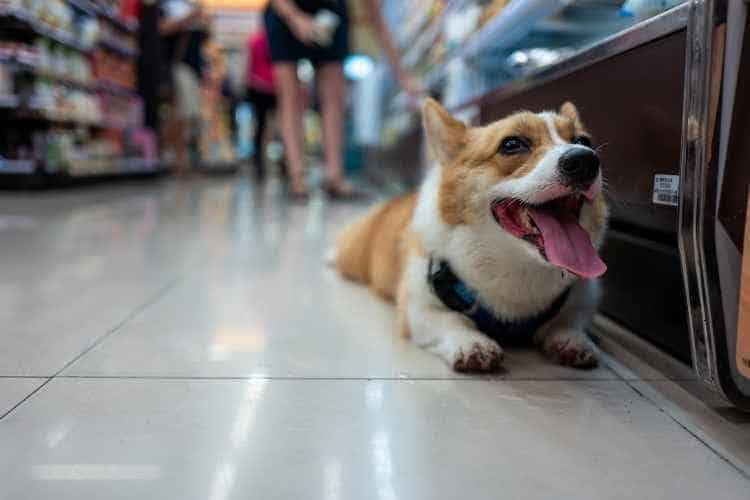 Bed Bath & Beyond is not just a popular name in the realm of home and comfort living. They are also a great advocate for animals.
They have a pet-friendly policy in all their US locations and even started a pet-friendly cart program at their New York City stores to help pet-friendly shoppers.
Now that's what you call genuine all-out support!
Speaking of support… While some stores express their love and care for pets and owners, as dog parents, we too should do our part as dog owners.
Wherever we go, we need to show how to be a smart and responsible pet owner all the time!
7 Tips For Bringing Your Dog Inside a Store
#1 Know your dog
While shops and other places have become more and more dog-friendly, we need to know not just where but when it is right to tag our pets along.
Even if a shop says it's pet-friendly, we still need to take our dog into consideration. That's the priority.
Is it a healthy environment for our pets? Before tagging your pet along, is he likely to enjoy the place?
As pet owners, it's best to answer those questions first to make sure that it will be an enjoyable experience for our dogs. We don't want to overstimulate our dogs.
#2 Use proper dog gear
Remember, safety always comes first. Before going shopping with your canine companion, take note of the listed on-the-go essentials below for a safe and fun shopping escapade.
Collar or harness
Dog leash (length not exceeding 6 ft) or stroller
Doggy ID with contact details or microchip implant
Poo bags
Travel bowls
Car safety crate or seat belts
#3 Dog training
Is your dog ready and trained to act and behave well in public, specifically around strangers?
That's a question that we should ask ourselves before our first shopping experience with our pets.
Here are some of the basic skills to teach our dogs to ensure they're ready to have their first-ever shopping trip.
Loose leash walking – Can your pet walk obediently by your side without you constantly tugging and pulling?
Walking is controlled steps – Also known as "healing", it means that your dog can walk directly next to you.
Dog self-control – Can your pet control his impulses? For instance, does your dog pounce at every new creature he meets? Or grab someone's meal? Or does your dog know how to restrain himself from nibbling on things at the store?
Polite greeting – Does your dog jump at you every time he greets you? Or does he know how to sit and wait when you introduce him to new people?
Not all dogs love outdoor excursions or going to new places. Some dogs are a bit more anxious and easily triggered than others. If that's your case, consider other ways to bond with your furry buddy.
Shopping might just not be a dog thing, you know.
#4 Take it one step at a time
Are you planning to take your first ever store visit with your dog?
Take it easy. Try visiting during off-peak hours. Those times are less busy, so there will be less distraction for our pooches too.
It's also a good way to test how your dog reacts in public places. How will your pet handle his first experience? That way you could adjust on your next trip.
#5 Consider your dog's temperament
Let's face it. Some dogs can be hyperactive. Other dogs can be prone to aggression and misbehavior. Consider this as a huge factor when taking your dog to shops with you.
#6 Call stores in advance
It's always a good habit to call and check with shops first, regardless of whether they have an existing pet-friendly policy or not.
Often, companies still give their location staff the final call. It's simply because employees know better in terms of what's happening on the ground.
Anyway, there's always another store if someone says no, right?
#7 Avoid meal or drink-serving shops
For obvious reasons, it's best not to bring your dogs to malls that have food stalls or indoor diners. Keep in mind the health and sanitation policies of certain food outlets.
Unless a restaurant explicitly permits pets in their establishment, don't assume that a diner inside a pet-friendly mall allows dogs as well.
You may check beforehand if there are pet-friendly restaurants in your local area for post-shopping dining.
Are dogs allowed in Walmart?
As per their pet policy online, Walmart allows service animals in their stores. They recognize the valuable role of such animals in the lives of their customers. But unfortunately, they do not allow pets in their stores.
Are Dogs allowed in Home Depot?
Yes, dogs are allowed in Home Depot. Their official pet policy states that only service dogs are allowed to enter their stores. But most locations don't really check and seem to allow pets into their spaces. If you're planning to drop by your local Home Depot, it's best to ring beforehand.
Are Dogs allowed in Lowes?
Yes, dogs are allowed in Lowes. As per their policy, they only allow service dogs into their shops. However, many reported that branch managers decide. Most of them allow customers with pets into their shop. If unsure, call before visiting Lowes with your pooch.
Are Dogs allowed in Menards?
No, dogs are not allowed in Menards at this time. As per their latest 2021 update, Menards only permits service dogs into their stores. Thus, you can't take your pet to Menards premises until further notice. The recent update in their pet policy is due to the recent coronavirus pandemic.
Are Dogs allowed in TJ Maxx?
Yes, dogs are allowed in TJ Maxx. The retailer is known for its pet-friendly locations and employees. They even have dog-friendly carts so that your dog can take a nice ride while shopping. Just keep an eye on your pet's behavior, especially when you pass along the toys section. Watch out!
Are dogs allowed in Ross?
Yes, dogs are allowed in Ross stores nationwide. Regardless of whether they are service dogs or not, you can take your pet along with you. Just be sure to put them on a leash before your day out. Your dog must be behaved and restrained to avoid damages inside the premises.
Are dogs allowed in Target?
Unfortunately, dogs are not allowed in Target. The giant retailer has a non-pet-friendly policy. However, they do allow service dogs under the Americans with Disabilities Act. So if your dog is not a service animal, you will most likely be denied entrance into their shops.