Are Labradoodles Expensive?
A Labradoodle is a popular dog to bring into your home. They are energetic, lovable, and have lots of great characteristics that make families want to bring them home. However, owning a dog is not always affordable and many potential dog owners wonder if a Labradoodle is expensive or not. 
How Much Does a Labradoodle Cost?
Labradoodles can be expensive. It costs up to $3,000 to get a purebred Labradoodle from a reputable breeder, but you'll also need to purchase food, toys, vet care, and any training classes that you will give to them. Once you bring the Labradoodle home, expect to pay around $400 a month for maintenance.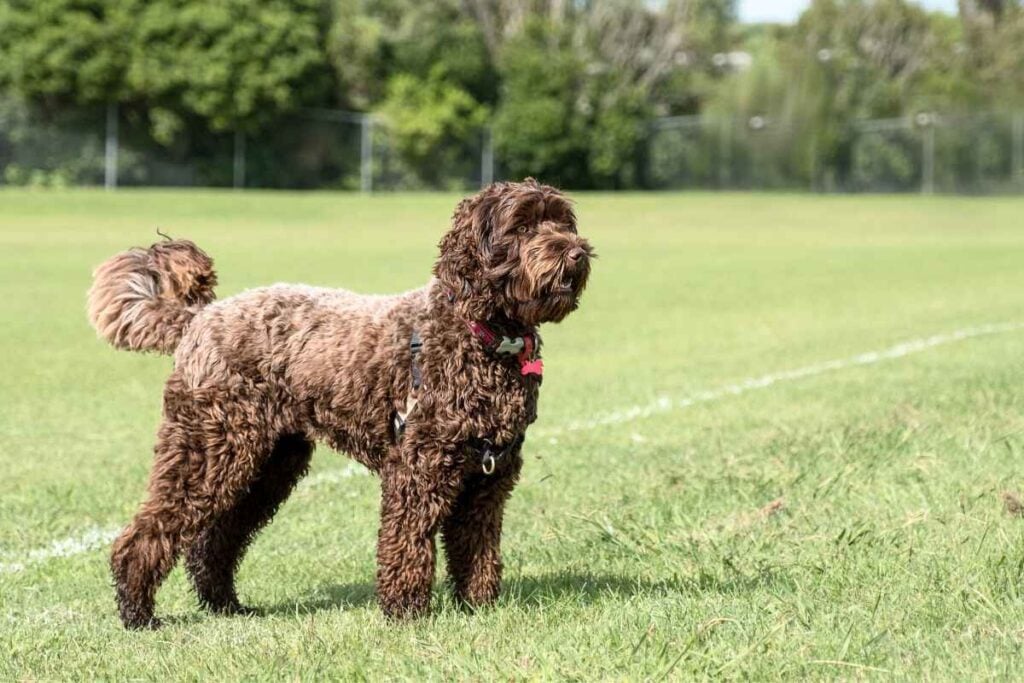 Bringing a dog home to your family can be an expensive endeavor and one that you will need to budget out from the beginning.
If you have made the decision to purchase a labradoodle, it is important to be prepared for all the costs of bringing this dog home.
Not only do you need to provide them with food, toys, and vet care, there will usually be a fee in order to get them from a breeder or adopt them out of a shelter. 
Let's take a closer look at some of the expenses of owning a Labradoodle to decide if this is the right pet for you. 
Costs Of Buying A Labradoodle
The most expensive option that you can choose is to get this dog from a registered breeder or a pet store.
But this is true for any dog that you would like to purchase.
Breeders put a lot of time into taking care of the dog, feeding them, and picking out the right parents so the cost will be higher.
If you choose a pet store or a registered breeder, it will cost at least $1000 for the dog.
Some families will get a Labradoodle and find that they can't take care of this dog any longer.
They may find that the Labradoodle is more work than they were anticipating or they need to move and can't take the dog with them. Most people will charge a rehoming fee.
This helps them make sure that any potential buyers are serious about getting the dog, not just looking to take the dog and abuse them.
These rehoming fees are much cheaper than going through a breeder, though the dog tends to be a little older.
It is also possible to get the dog from a shelter.
However, it is not common to find a Labradoodle in a shelter. This is a popular dog breed and very few people will harm the dog or let them go so you are not likely to get your Labradoodle through there.
This means that you are most likely to get the Labradoodle from a pet store or a breeder.
While this can be more expensive, it does ensure that the puppy has been well-taken care of up to that point, that their parents are good, and that they are spayed or neutered and given the vaccinations that they need. 
Some breeders will also start to train the dogs to make things easier.
The more designer you want this breed, the more you will need to pay.
If you have a specific color, want certain parents, or are looking to make sure that the dog is health tested and doing well, then expect to pay closer to $3000 for the dog instead.
You should be able to get all of the records that the Labradoodle is purebred and in the best health conditions possible.
How Much Do Labradoodle Puppies Cost?
Most pet owners get their Labradoodle as puppies from a breeder.
It is uncommon for families and pet owners to give up their older Labradoodle so that option is not as available for this breed as it is for some of the others.
This means that you will need to find a reputable breeder to work with to give you a healthy and happy puppy.
For the most part, the Labradoodle puppy is going to cost about the same amount as you would pay for the adult.
This means the cost is going to be close to $3000 for the purebred. If the puppy is older, not a purebred, or has some other issues, you may be able to get a lower price.
This is a dog that is in high demand compared to some of the other breeds, so get ready to pay more to get this dog. 
Make sure that you get all of the necessary paperwork for this dog before you get started.
This will help you to know more about the dog, its parentage, and its health before you decide to have them come home with you. 
You will also need to budget $300 to $400 for this dog to ensure that you have enough for vet bills, food, and other supplies that this dog will need.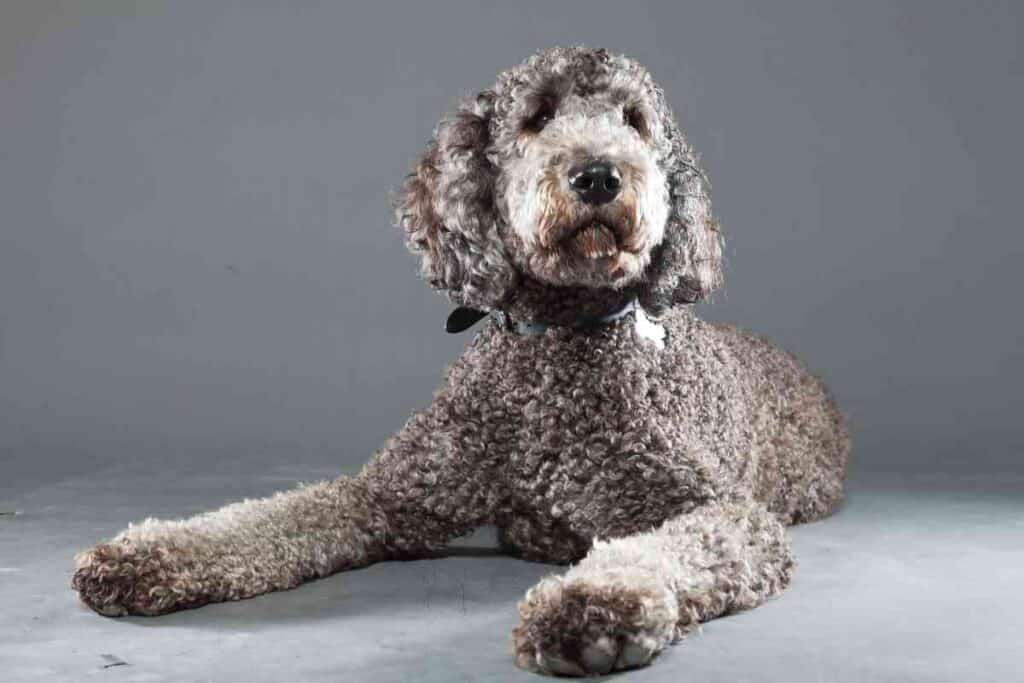 How Much Does it Cost to Own a Labradoodle?
Now that we know a bit more about how much it costs to purchase a Labradoodle, it is time to look at the costs that you will have to pay in order to own this breed as well.
This can include the cost for their care, their food, their health, and more.
Some of the things that you will need to pay for your Labradoodle include:
How Much Does Labradoodle Food Cost?
The cost of the food for this dog will depend on the diet that you feed for them.
Their diet can consist of homemade food, raw foot, wet food, or kibble. Some owners will do a mixture of these to add some variety to the mix. Kibble is the most common with some wet food added in on occasion. 
This is often the most affordable, but each brand of food will have different quality to them and different prices.
Overall, the average daily costs to feed the Labradoodle will be $2, which will give you a total of $730 a year to feed this dog.
If you go with specialized or high-quality food, the costs can be higher.
This cost is also not going to include any treats or wet food that you want to add into the diet as well.
How Much Do Labradoodle Toys Cost?
There is a wide range of costs for the toys that you can get for the Labradoodle.
They do use the same toys as other dogs of the same size.
Your dog could prefer one type of toy over another.
Try out some chew combo packs, dog bricks, and Kong's to see how your dog likes them.
While the upfront costs of bringing toys home to the dog can seem high, you will probably spend a minimum of $100 a year on toys to keep your Labradoodle happy.
How Much Does a Labradoodle Crate Cost?
Crate training can be a great way to take care of your dog and ensure that they are going to have a comfortable place to rest and relax.
The cost of the crate will depend on the type you get.
There are some cheaply made kennels that are available for $60, but they are not likely to last for long.
Some of the sturdier crates that can last for years will cost $200 or more.
Make sure to get one big enough for your dog to enjoy.
Are There Other Costs for a Labradoodle?
There are other costs that you may have with a Labradoodle.
You will need to get them groomed and bathed at least once a month.
Whether you have a professional do the work, which can be between $30 to $60 each time, or you do it yourself but have to pay for the shampoo and supplies, it can cost a bit to do this.
Many pet owners decide to train the dog to make sure they behave and get along in the home.
These lessons will be between $30 to $50 per class, with some packages ranging up to $600 depending on how long the program is and your goals for your dog.
You will also need to board the dog.
If you go with an amateur doggy daycare, it can cost about $25 each day that you want to board the dog.
Larger chains are going to cost between $45 to $85 a night to provide the boarding.
Vet bills can be expensive as well.
These may not happen every month, but checkups and emergencies do happen.
Being prepared with some money set aside will make this one a little bit easier to work through.
Budgeting Out Your New Family Member
A Labradoodle is a great pet to add into your family. They have a lot of love that they can share with everyone.
But it is important to know how much they will cost before you decide to bring them home.
By looking at some of the costs above, you will be able to determine if this is the right pet for your family!