Many changes happen as a puppy grows up. Most puppies will have to grow into their paws, and they will become a lot bigger in a short amount of time. Some puppies will have their eye colors change by getting lighter or darker, and some puppies will change fur color.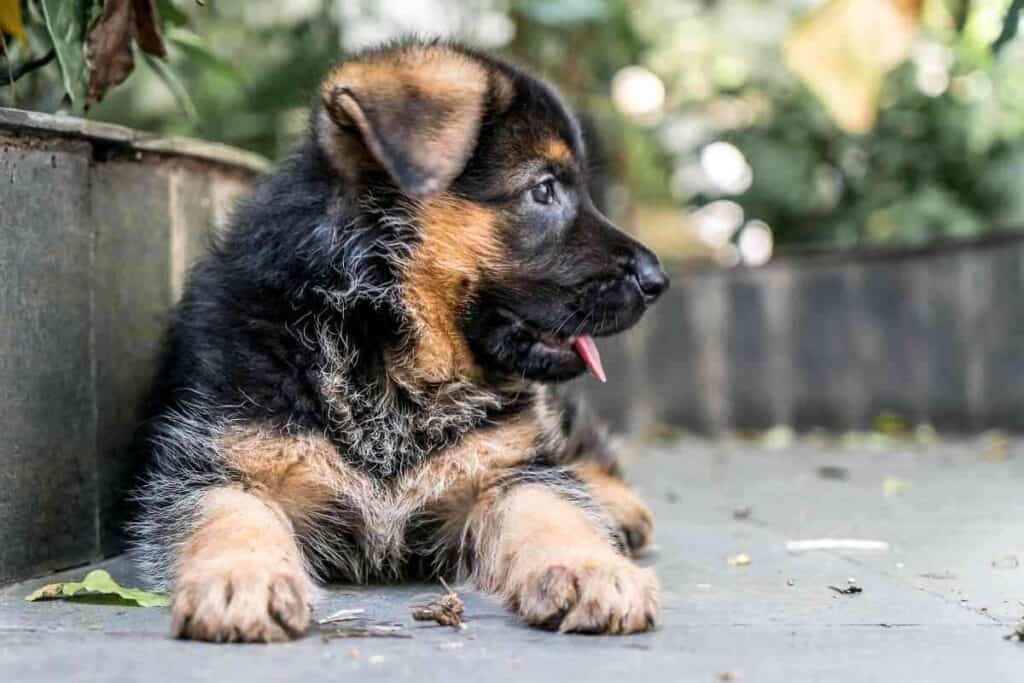 Table of Contents
Will my German Shepherd puppy's coat change color?
German Shepherds do change color as puppies. On average, the fur color of a German Shepherd puppy will continue to change until they are 2 years old. At this point, they are usually their adult size with their adult features.
For the coat of a German Shepherd puppy to change, the old hair must be shed. It is known that German Shepherd puppies shed their fur a lot more often than adult German Shepherds.
As a German Shepherd puppy sheds their coat, a new color of fur will grow in its place which will over time give the German Shepherd a new coat color. To help with this shedding process, it is good to regularly brush your German Shepherd puppy. Of course, be very gentle with them as they are still very small.
This constant shedding will continue until they are around 7 months. At 7 months, they will mostly have their adult coats, but changes will still occur at a much slower pace.
What Is Different Between a Puppy and an Adult German Shepherd Coat?
Other than the color of the coat that will change from puppyhood to adulthood, there are other differences in their coats as they age as well.
To start, a German Shepherd puppy only has a single coat layer. This single layer is soft and fluffy as it doesn't need to provide as much protection from the outside elements. As a German Shepherd grows up and gains its adult coat, it will grow a double coat.
One layer will be made up of dense fur while the outer coat will be coarser to protect against the elements.
Because of the transition from a single coat to a double-coat, the texture of their fur will change over time. While adult German Shepherds can still have nice and soft fur, it is usually much coarser as they age than the super-soft fur that puppies have.
What Causes the German Shepherd Coat to Change Color?
Genetics rules all. The color of a German Shepherd puppy's coat will change because of genetic changes that happen over time. Some German Shepherds are born white and will develop a darker coat color over time.
Certain genes in German Shepherds (along with all other breeds of dogs) control their fur color. Some genes have mutations that can change the color of the coat over time, such as how the gene melanophilin can cause the color of a dog's coat to dilute.
However, there isn't an exact rule that has been discovered to determine exactly what causes this coat color change. It is still a bit of a mystery that can only be predicted.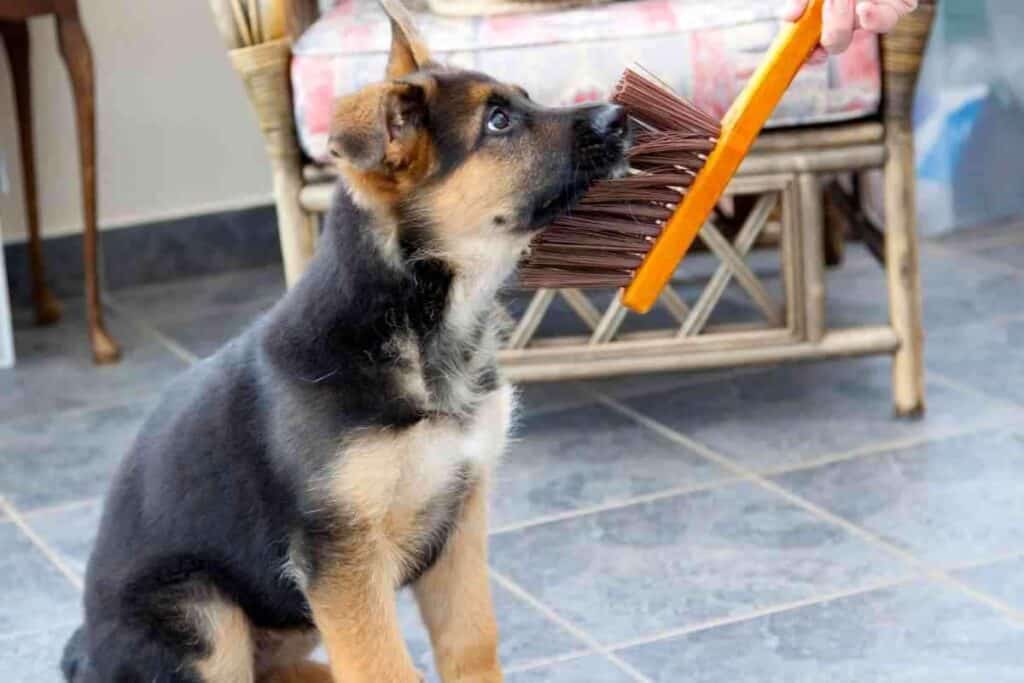 How Can I Know What Color My German Shepherd Will Grow Up to Be?
While you can't be 100% sure what color your German Shepherd puppy will grow up to be, there are ways to predict the color.
The Common Coat Colors
There are several different coat colors that German Shepherd has, but there is a small selection that is very common. It is most likely that your German Shepherd will grow up to have one of the very common color patterns. These fur colors include Black and tan, black and red, bi-color, sable, white, black, or brindle German Shepherds.
There are more kinds of German Shepherd fur colors out there, but they aren't as common or aren't recognized by the AKC.
What Are the Parent's Genes?
A good way to determine what color your German Shepherd puppy will grow up to be is by looking at the files of its parents. This can be harder to do if you adopted your German Shepherd, but a reputable dog breeder should have the files of all the parents.
You can look at what color patterns the German Shepherd parents had, and it can give you a good idea of what your German Shepherd puppy will look like. If both parents had the same coat color, then it is pretty safe to guess that your puppy will be the same color.
Of course, there is always a chance of a recessive gene popping up and making your German Shepherd a different color. That's why using the parent's color is just an estimate.
What Kind of German Shepherd Do You Have?
Another way to estimate what color your German Shepherd will grow up to be is to see what kind of German Shepherd you have and what the parents are.
There are a few different types of German Shepherds. These types refer to the bloodline of the German Shepherd and where they have come from. There are American and West show line German Shepherds, West working line German Shepherds, East working line German Shepherds, and Czech working line German Shepherds.
Each type of German Shepherd has its own look with its own common color types. By knowing what kind of German Shepherd, you have, you can narrow down the coat possibilities that your puppy can grow up to have.
Show line German Shepherds usually have a more distinct color pattern because that is a trait that matters in the show life. With working line shepherds, colors might not be as distinct because physical traits are more focused on.
When Do German Shepherd Puppies Change Color the Most?
When growing up, there are different developmental stages that your German Shepherd will go through. These developmental stages cover height, weight, and fur changes.
As a German Shepherd puppy grows up, the most dramatic changes to its coat will happen from 1 to 2 months old. It is not unusual for your German Shepherd puppy's coat to go through several big changes during this time.
After 2 months, the changes will start to slow down. However, they will still be common until 7 months. Essentially, the coat of your German Shepherd puppy will slowly begin to stabilize as they get older with more time happening in between each big change.
Changes will continue to happen until your German Shepherd is 2 years old, but there will be more time in between these changes. There are many changes that a puppy's coat has to go through that aren't about fur color.
Your German Shepherd needs to develop their double-coat and also go through the fur texture changes that come with it.
What Are Other Reasons for Coat Color Changes?
Sometimes the color of a German Shepherd's coat can change for non-genetic reasons. These changes are usually temporary as long as the cause is addressed properly.
A bad diet can change both the color and texture of a dog's coat. This is because your German Shepherd is lacking the proper nutrients to have a healthy coat. With the wrong diet, the coat of a German Shepherd can become a lighter color and get weaker.
A weak coat can mean more shedding and the coat won't be able to protect your dog as well as it should.
Sometimes, living in a place with a lot of sun can result in a lighter coat in your German Shepherd. If your German Shepherd spends a lot of time in the bright sun, its coat can become lighter due to "sun bleaching." This is similar to how if you leave clothes out in the bright sun for too long the color can fade.
Finally, sickness can change the color of a German Shepherd's coat. With sickness, your German Shepherd won't be able to keep the nutrients that they need in its body. From this, they will have similar coat changes as if they aren't getting the proper food that they need. The worse the sickness is, the worse it will impact how their coat looks.
Changes for these reasons can happen no matter how old your German Shepherd is. It is always important to take proper care of your German Shepherd so that they can be as healthy as they can be. If your German Shepherd gets sick, you should take them to the vet as soon as you can so that you can get the proper advice.
Final Thoughts
German Shepherd puppies can change colors quite dramatically as they grow up. The most dramatic changes happen when they are 1 to 2 months old, but changes can continue to occur until they are 2 years old. At that point, they have their adult coat with their adult color pattern.
If you want to know what color your German Shepherd will grow up to be, you can get an estimate by looking at their parent's genetics or at what kind of German Shepherd they are.
No matter what color your German Shepherd grows up to be, they will still be super cute. German Shepherds are great pets to have.